560km, 3 days, no sleep: Russian aiming to beat world record for running without stopping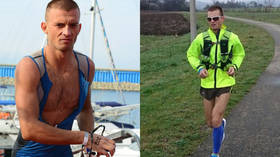 Russian ultramarathon runner Vitalii Didenko has set off on his bid to beat the world record for running without stopping, aiming to surpass the mark of 350 miles (560km) set by American Dean Karnazes in 2005.
Didenko, 23, set out from the village of Giaginskaya in Russia's Republic of Adygea in the North Caucasus on Friday morning. He is aiming to run almost continuously for more than three days with no sleep.
"Vitaly started this morning in the village of Giaginskaya, his hometown," said regional official Arthur Thaytsukhov, according to TASS.
"One-third of the distance, which is 500 km long, will pass through the territory of the republic, the remaining mileage is around Central Park in Giaginskaya.
"Didenko's goal is to break the world record of American Dina Karnasis ran 560 kilometers without sleep," added Thaytsukhov.
Throughout the feat, Didenko will reportedly be accompanied by people in a car and on a bicycle who will film his efforts, and is planning to take breaks lasting a maximum of 10 minutes to prevent him from nodding off.
READ MORE: Skating 200km in under 8 hours: Russian smashes marathon record across frozen Lake Baikal (VIDEO)
As you would expect, Didenko, a student at the Institute of Physical Education and Judo of the Adyghe State University, is no stranger to challenges of epic endurance.
Three years ago he ran a marathon covering 200km in a day, and has also taken part in an Ironman event involving a 180km bike ride, 42km run, and 4km swim in the space of 13 hours.
Didenko has trained his sights on the record set by legendary US ultrarunner Karnazes, now aged 56, who back in October 2005 ran 350 miles in 80 hours and 44 minutes across Northern California without stopping.
Karnazes had to overcome hallucinations as a result of the sleep deprivation, which will be as much of a battle for Didenko as covering the distance.
The American topped that off the following year by running 50 marathons in 50 states on 50 consecutive days.
As Didenko prepared for his challenge, he posted a social media message reading: "Less than a day to go until the start!
"What to say before it all starts? By and large, nothing! The main thing is never to give up when no one believes in you. Be true to your dreams!"
You can share this story on social media: