'What about flower-arranging & desk-tidying?' Reaction as breakdancing considered for Olympics
Published time: 21 Feb, 2019 13:48
Edited time: 21 Feb, 2019 16:03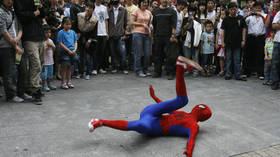 After breakdancing was surprisingly put forward for consideration to be included as an Olympic sport for the Paris 2024 Games, the internet has exploded, with many doubting that street dance has any tie to professional sport.
On Thursday, Paris 2024 Games organizers named four sports - breakdancing, surfing, climbing and skateboarding - which are to be considered for inclusion in the Olympic program and maketheir debut at the Summer Games in five years.
The International Olympic Committee (IOC), which is responsible for approval of sports at the Games, will consider the proposal made by organizers and will announce its verdict by the end of next year.
Also on rt.com
Russian spins his way to first-ever breakdancing gold at Youth Olympics (VIDEO)
Breakdancing's possible Olympic inclusion was met with mixed reactions on social media, with many users doubting that the street culture discipline has anything to do with sports.
Breakdancing was included in the 2018 Youth Olympic Games in Buenos Aires, where Russian Sergey Chernyshev, nicknamed 'Bumblebee', dominated the field, winning the inaugural Youth Olympic breakdancing title in the newly introduced event.
Some social media users suggested allowing rock-paper-scissors, desk-tidying, hoovering and flower arranging into the Games lineup if breakdancing qualifies as a sport.
The head-to-head 'battle' format of competitive breakdancing, which was used in Argentina, is expected to be applied in Paris if the IOC approves its inclusion for the 2024 Games.
Squash, billiard sports, and chess had also campaigned for inclusion, but were snubbed by the Paris 2024 Organizing Committee, which excluded them from the list of contenders. Squash lovers were particularly enraged by the shock choice.