Djokovic wins record 7th Australian Open title in straight sets 6-3, 6-2, 6-3 versus Nadal (RECAP)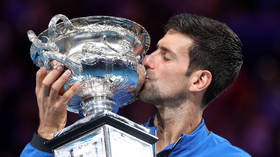 The tennis Open Era's most prolific rivalry serves up its latest installment as modern day greats Rafael Nadal and Novak Djokovic battle it out Down Under in the Australian Open 2019 final. Follow the action from Melbourne here.
Rod Laver Arena is the amphitheater for two Gladiators of the sport, and the respective world number one and two, to write another chapter of their storied history.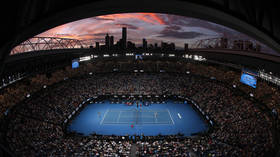 27 January 2019

11:26 GMT

Thanks for joining us!

There you have it. History made in Melbourne in the most dominant fashion. Thanks for tuning in to RT Sport's live update coverage of the Australian Open 2019, where Novak Djokovic win his record seventh title in straight sets 6-3, 6-2, 6-3 against Spanish legend Rafael Nadal.

11:19 GMT

Seventh Heaven

Standing proud with his seventh Norman Brookes Challenge Cup, Djokovic now holds three of the four Grand Slam trophies with last year's US Open and Wimbledon titles under his belt, this his seventh at age 31, his first came at only 20 when a young pro on the circuit. Eleven years later, he makes history in the same Rod Laver Arena.

11:14 GMT

Djokovic, now a seven-time champion at Melbourne and 15-time Grand Slam winner overall, calls Nadal the "definition of fighting spirit and resilience". Clearly overwhelmed by the event, Djoker pays tribute to his family, parents, brothers, team and his watching wife and children back home, promises never to take them for granted, and agrees with Nadal that the tournament is "probably the best int he world". Says to the organizers: "you make all of us players feel like at home", before coming out with Australian slang "bonze" in response to a supportive heckler.

11:12 GMT

Rafa Nadal full of thanks and praise for his team, the fans and organizers at Melbourne Park, which he claims is perhaps "the best in the world" and full of congratulations not least for opponent Djokovic, whom he commends greatly.

11:02 GMT

Respect

Outplayed but not outclassed: it wasn't Rafael Nadal's day today, but the respect is evident between the two best players in the world. Imperious performance from Novak Djokovic, who needs just over two hours to dispatch the world number two.

10:52 GMT

History is made!

Nadal fires long to gift Djokovic his seventh Australian Open title, the most of any male player in history, in straight sets 6-3, 6-2, 6-3 at Rod Laver Arena, recording just nine errors through the whole match, Nadal not having revered from his jittery start.

10:48 GMT

Two championship points

Poor first service from Nadal against the first seed and favorite and the man within touching distance of the 2019 championship, which will be his seventh. Running out of superlatives to describe Djokovic's dominance here.

10:40 GMT

Djokovic 5-2* Nadal

Nadal springs into life and forces a Djokovic backhand wide in a rally, but Djokovic wins the next two points to win the game and become within a game to win the championship. Still unbroken in his service game.

10:34 GMT

Djokovic 4-2 Nadal*

Nadal squanders break point at 40-30 to give Djokovic a way back in, which he takes by clinching his advantage. Wild celebrations from the six-time champion, he knows he's only a hair's bredth away from a record seventh title at Melbourne Park.

Nadal bags an ace to open the next game by the slimmest of margins which is called and lost by Djokovic. Nadal must win this game you feel to stay int he championship match.

10:31 GMT

It's looking ever more likely...

Nadal claws a game back in the third to trail 3-2 to Djokovic, needing a miracle in this match to not lose in straight sets to the world number one