'I'm at the best team. I don't need to change': Messi responds to Ronaldo's Italian challenge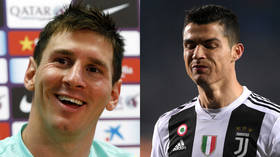 Barcelona great Lionel Messi has hit back at rival Cristiano Ronaldo's challenge to join him playing in Italy, by saying there is no need to take up the gauntlet and switch leagues as he already plays for the world's best team.
READ MORE: Date Cristiano Ronaldo will receive 2-year jail sentence for €14.7 million tax fraud revealed
Juventus winger Ronaldo recently pondered the idea that Messi may be pining for his fellow five-time Ballon d'Or winner, who left La Liga's Real Madrid for the Turin club in the summer for €100 million, and teased him about the idea to "accept the challenge" of joining him in Serie A.
Also on rt.com
'Maybe he misses me…?' - Ronaldo urges Messi to make Italy switch, throws shade at Real
"Maybe he misses me. I played in England, Spain, Italy, Portugal, in the national team, while he is still in Spain," Ronaldo said.
"Like me, accept the challenge. However, if he is happy there, I respect him, he is a fantastic player, a good guy but I do not miss anything here. This is my new life and I'm happy."
READ MORE: 'He's an egomaniac!': Ronaldo savaged for denying Dybala screamer with attempt to score (VIDEO)
Just as in their rivalry, that forms the basis for the perennial debate over who is the planet's greatest player, Messi showed he could match the Portuguese ace, insisting he has no need to change already being at the world's best club.
"Accepting Ronaldo's challenge to join Italian football? I don't need any change," the Barcelona talisman said to Marca.
"I'm at the best team in the world. My challenges are renewed year after year. I do not need to change teams or leagues to set new goals. I am at home and I do not need to change."
However, Messi did seem nostalgic when referring to his rivalry with Ronaldo in Spain's top league as "very nice", perhaps hinting that Ronaldo was right to say he missed his former sparring partner.
"The time we were in the same league and trying to win with our teams was very nice. It was a very healthy rivalry in which we both wanted to improve ourselves. And it was good for the spectators," the Argentine captain said.
You can share this story on social media: