'Shocking & unacceptable': Afghan football officials suspended amid abuse allegations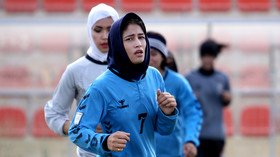 Six members of the Afghanistan Football Federation (AFF), including the president, Keramuddin Keram, have been suspended over sexual and physical abuse allegations against players of the national women's team.
Afghan sport was shattered by an unprecedented scandal after British newspaper the Guardian published an article citing senior figures, associated with the Afghan women's national team, who claimed that female players had been systematically abused by AFF staff.
READ MORE: Sex with American high school football player was 'consensual', the school coach's wife insists
The flagrant abuses reportedly took place inside the country, including at the federation's headquarters, and at a training camp in Jordan last February with female players being subjected to physical and sexual abuses, death threats and rape.
"It was very difficult for us, living in the country, to talk about these things because these are very powerful guys. If a player from Afghanistan raised a voice they can get killed," Khalida Popal, a former head of the women's football department at the AFF, told the Guardian.
Also on rt.com
'It's become unbearable': South Korean 'Garlic girls' accuse curling official of abuse
The AFF denied any wrongdoing stating that it "vigorously rejects the false accusations made with regard to the AFF's women's national team." It also added that the body has a "zero-tolerance policy towards any such type of behavior."
After the shocking allegations surfaced the Afghan President, Ashraf Ghani, ordered an investigation to be launched to examine the claims.
READ MORE: Pedophile football referee charged with molesting over 300 boys in Norway's biggest sex abuse case
"This is shocking for all the people of Afghanistan,"Ghani said. "No kind of disrespect against our boy and girl athletes is acceptable. I want the attorney general to investigate this thoroughly. I cannot tolerate immorality."
Football's governing body FIFA said it is closely monitoring the situation and "has been working hard to secure the safety of the girls."
You can share this story on social media: