McGregor fan banned from UFC events after rushing to Irish star's aid during Khabib fracas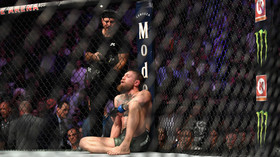 Irish MMA fan David Martin has been banned from UFC events after getting involved in the controversial scenes that followed the UFC 229 bout between Khabib Nurmagomedov and Conor McGregor.
A fracas broke out after the bout, and members of Nurmagomedov's entourage jumped the cage fence to confront an exhausted McGregor.
Martin jumped into the octagon in an attempt to calm things down, saying he feared McGregor "could have been killed."
READ MORE: 'Conor could've been killed, I had to step in' – Irish fan reveals role in McGregor-Khabib brawl
He later returned to his seat before leaving the arena at the end of the event - but this week Martin, an Irishman who now resides in California, revealed he had received notice that he is no longer welcome to attend UFC events.
Martin posted a copy of the letter he received from the UFC to his Instagram page - which has since been removed - explaining that he would be unable to attend future events.
"Your actions jeopardized the safety of the athletes, the other event attendees, the Arena employees, and UFC support staff," the letter read.
"This letter serves as written notification that as of this date, you will no longer be permitted to attend any UFC event hosted at the Arena, or any other arena inside or outside the United States, until further notice."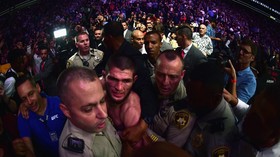 Responding to the news in comments to USA Today's For The Win blog, Martin explained his involvement in the incident and why he feels his ban is unwarranted - reiterating that he had merely been attempting to protect McGregor.
"It was my perception and understanding that the individual (Conor McGregor) was in a life threating situation and was left defenseless after being likely exhausted from his fight," Martin said.
"Irrespective of what was legal or not, my actions and priorities were to protect that individual (Conor McGregor) from harm and possible death and therefore I positioned myself appropriately, as any Irish man in my seat would have likely done," he added.
Also on rt.com
'Conor could've been killed, I had to step in' – Irish fan reveals role in McGregor-Khabib brawl
The MMA fan said he "fully understood" the need for fans to remain outside the octagon, and also cited his attempts to calm UFC heavyweight champion Daniel Cormier, who was a member of Khabib's team on the night.
Martin concluded by saying that while he accepted the ban, he questioned the reasoning behind it, and cheekily said that he wanted to pick his own seat for McGregor's next bout once his sanction is lifted.
"This ban is not just a ban on attendance, it's a ban on protecting others from violent physical assault, it's a ban on peacekeeping, it's a ban on doing the right thing.
"In the spirit of the bigger picture and to set a clear and proper example to the attendees that they should under no circumstances enter the Octagon, I accept the ban. But under the circumstances that once it is lifted, I get the seat of my choice for the next Conor McGregor card."
It remains to be seen whether McGregor or Cormier will support Martin in his quest to have his ban lifted but, as things stand, it looks like he will have to enjoy the upcoming UFC events like the majority of the rest of us - on television.
READ MORE: 'That Irish b**** hit me, but I landed two back' – Khabib cousin on McGregor UFC 229 brawl