Forbes Woman Africa cover with Caster Semenya divides opinion on Twitter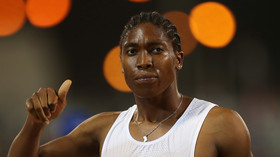 Forbes Woman Africa magazine has polarized opinions over its December issue featuring South African runner Caster Semenya on the front cover.
READ MORE: 'Woman' of the Year: GQ slammed for quote marks on Serena Williams cover
The world and Olympic 800m champion, wearing a white T-shirt and suit jacket, was pictured on the magazine's front page with the caption: "'I'm just priceless' Caster Semenya on being herself and winning against all odds."
The move was hailed by Semenya supporters who insisted the track star "fully deserved" the right to be featured on the magazine's cover.
"No one deserves this as much as you! Against all odds," one user wrote, apparently referring to Semenya's legal proceedings against the International Association of Athletics Federations (IAAF), which has ruled to reduce blood testosterone limits for female athletes.
The South African runner, whose testosterone level exceeds the outlined limit, challenged the IAAF's ruling at the Court of Arbitration for Sport (CAS), claiming that the newly-introduced regulations are discriminatory and unfair.
However, others have spoken out against the 27-year-old middle-distance runner, claiming she should not be allowed to compete with elevated testosterone levels, and criticized Forbes' cover choice – with some going as far as to say that the word woman should be put in quotation marks.