'Not football': Anger (& memes) as Russian Premier League game goes ahead in Arctic conditions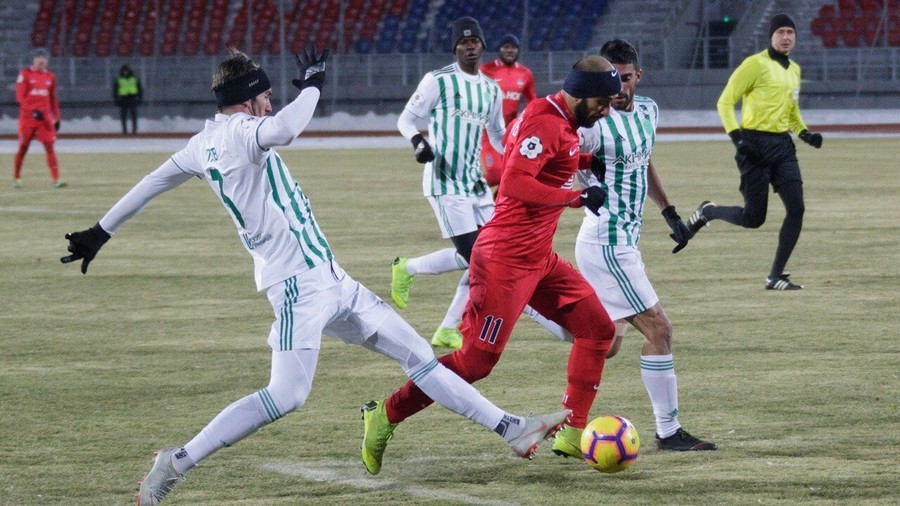 Russian Premier League officials have been condemned after a game between Yenisey and Akhmat in the Siberian city of Krasnoyarsk went ahead despite freezing conditions that some said could seriously endanger players' health.
Yenisey had requested to move the match from their Central Stadium to an indoor venue in the city in anticipation of the freezing conditions that would await the teams on Saturday.
The Russian Premier League however rejected that step – despite approval from the Russian Football Union.
READ MORE: Russian Premier League rejects calls for game to be played indoors despite fears of -24C temperature
Before kick-off at 18:00 on Saturday temperatures pitchside showed -14.9C (5.18F), which was agonizingly short of the -15C limit which means teams have the right to cancel matches, TASS reports.
The windchill factor reportedly made the actual temperature feel as low as -25C, as heavily-padded players braved the cold to play out a 1-1 draw.
The decision for the game to go ahead was condemned by players and officials.
Speaking to Russian TV channel Match Premier, Akhmat manager Rashid Rakhimov said: "The players need to get warm, we don't know anything about their state of health yet.
"The consequences of such a game could come later. There's no point talking about the game, you can't call it football," he added.
Yenisey goalkeeper David Yurchenko said at half time that the match "made a mockery of sportsmen and fans."
Yenisey had offered free entry to the hardy souls who had braved the temperatures to support their team, and gained some reward when Valerii Kichin earned the home team a point when he scored an 81st-minute penalty to cancel out Milad Mohammadi Keshmazi's opener for Akhmat.
Footage from the game showed fans - and many of the players on the substitutes' bench - wrapped up in numerous layers as well as blankets and hats.
Some, however, paid no heed to the freezing conditions - with Akhmat's Iranian full-back Momahammdi taking to the pitch in a short-sleeved shirt and gloves.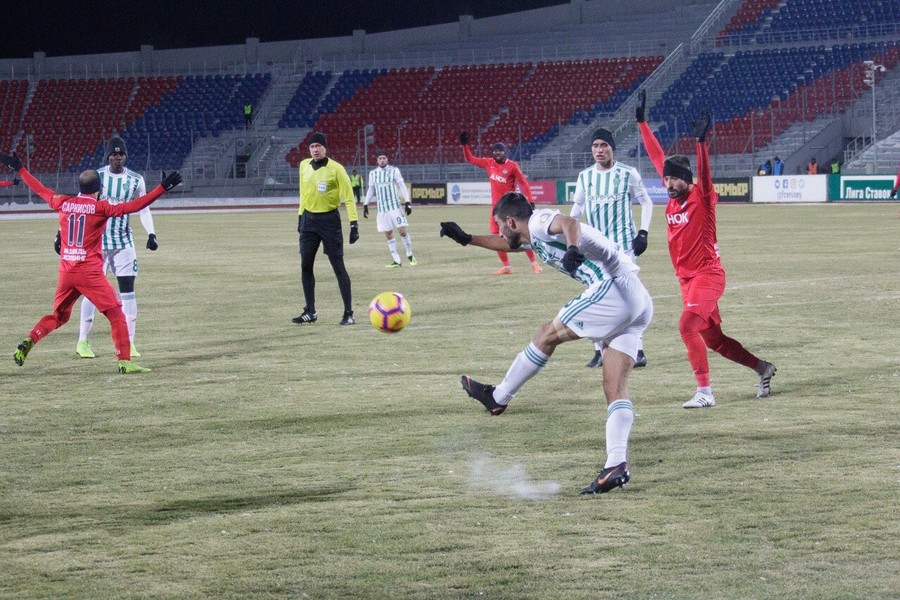 The game also spawned a wave of memes depicting the frozen spectacle - including when Yenisey announced their starting 11 in a computer graphic with players donning various headwear.
Others naturally riffed on the Games of Thrones theme, taking a screenshot from the series and joking that it resembled the playing conditions in Krasnoyarsk.
Another social media user posted a picture of Jon Snow and co with the message: "Yenisey v Akhmat looks great - one team is rushing to the pitch."
"When you've watched until the end of the first half in Yenisey v Akhmat," another person joked, alongside a picture of a frozen statue.
Elsewhere, the Premier League match between Orenburg and Krylia Sovetov in central Russia was called off when temperatures dropped to -17C around kick-off time.
READ MORE: 'I fall over less often on the ice': Russian figure skating star Tuktamysheva trolls Neymar
The Russian Premier League plays one more round of games after this weekend before taking its winter break until March.
Saturday's result leaves Yenisey bottom of the table on 10 points from 16 games played - although they have the cold comfort of knowing that they will not play again at home until after the break.