'Maradona at his best': Argentina icon's epic post-match interview goes viral (VIDEO)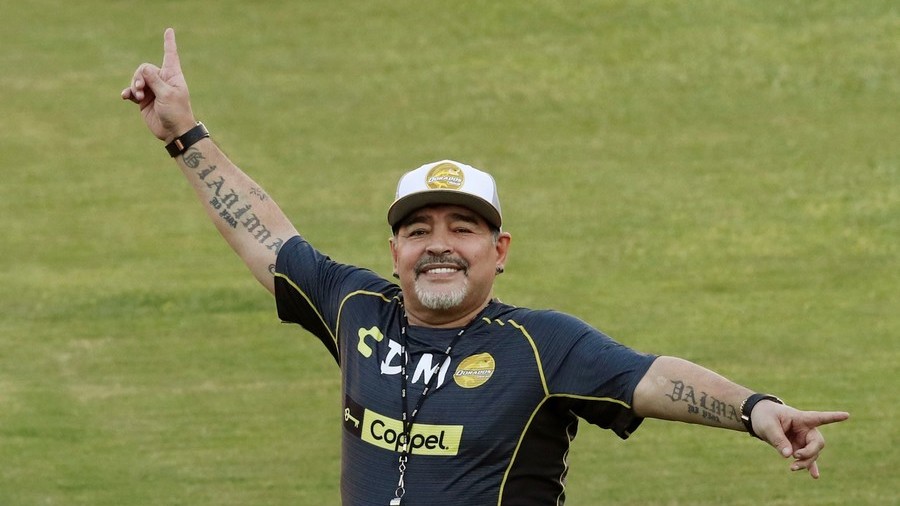 Diego Maradona is hailed as one of football's all-time playing greats but he's now given a post-match managerial interview which is winning similar accolades as being among the best – and most bizarre – in history.
Maradona, 58, is currently in charge at Mexican second-tier team Dorados, and recently saw his team advance to the finals of the Apertura thanks to a 2-1 aggregate win over Juarez.
But rather than his team's resurgence under his stewardship, it's Maradona's post-match interview from the 2-0 first-leg win against Juarez last week that has caught the eye since being widely shared on social media.
When asked about the Mexican league and its current level, the Argentinian legend seemed stumped, taking an epic 10-second, mumble-filled pause before attempting an answer in front of his awkward-looking interlocutors.
The Twitterverse - predictably - had a field day, with many blaming Maradona's apparent slowness on his well-documented history with certain substances.
Others though believed that the iconic Number 10 still made more sense than many pundits out there, including prominent English Premier League expert Gary Neville.
Rest assured that Maradona did in fact go on to answer the question – as a longer version of the interview shows.
And when the team clinched a spot in the final of the Ascenso MX on Sunday, despite a 1-0 away leg defeat, Maradona led the celebrations as only he knows how.
Maradona was also more forthcoming with his opinion on the recent Copa Libertadores chaos in his Argentinian homeland which saw the second leg of the final postponed over the weekend.
He put the blame for the violent scenes – including when the bus carrying Boca Juniors players to the stadium was attacked by rival River Plate fans – firmly at the feet of President Mauricio Macri.
READ MORE: 'He's worst in Argentina's history': Boca legend Maradona blames president for final violence
"(What happened) in my country is deplorable. The president fooled a lot of people that he was going to change all this and now we are worse than before," Maradona said on Saturday.
"What Macri is doing is the worst in Argentina's history. It is a horror to go out on the field, there are robberies everywhere, but this is the change people voted for."
Dorados, meanwhile, will next be in action in the finals of the Apertura against Atletico San Luis on Wednesday.