'Mayweather wants to challenge me' – Pacquiao fuels talk of big-money rematch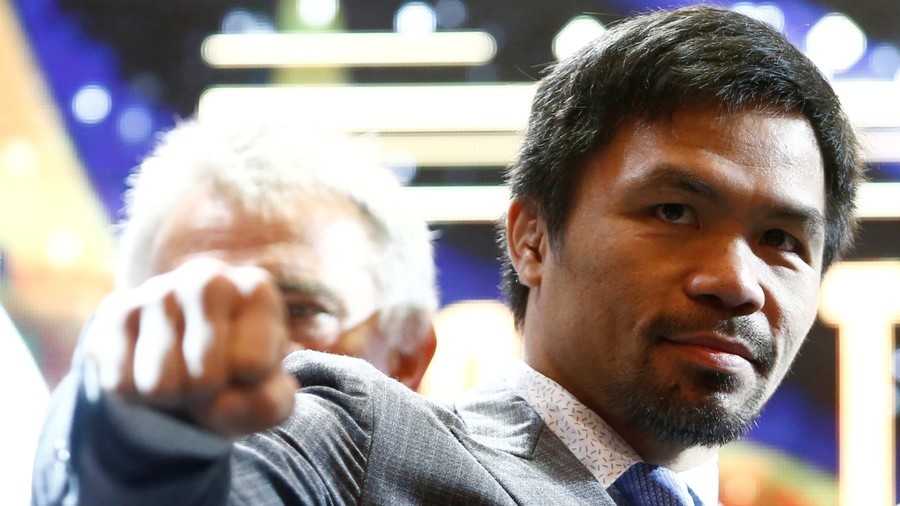 Manny Pacquiao has reignited talk of a potential superfight with Floyd Mayweather Jr., saying the pair have spoken about a possible fight in 2019.
Pacquiao was in New York for a press conference ahead of his upcoming bout with Adrien Broner. But as well as chatting about his January 19 fight with Broner, the Filipino superstar also touted a future rematch with Mayweather.
READ MORE: Return of the May-Pac? Mayweather announces comeback 'this year' for '9-figure' Pacquiao rematch
"When I met up with Floyd in Japan, we talked and he said he wants to come out of retirement to challenge me," Pacquiao said.
"All I know is fighting in the ring and entertaining people. That's my job. Floyd has come out of retirement and we'll see after this fight."
The pair met in 2015 in a bout that many criticized for not living up to the hype after years of will-they, won't-they rumors about the possible matchup. The encounter remains the highest-grossing fight of all time.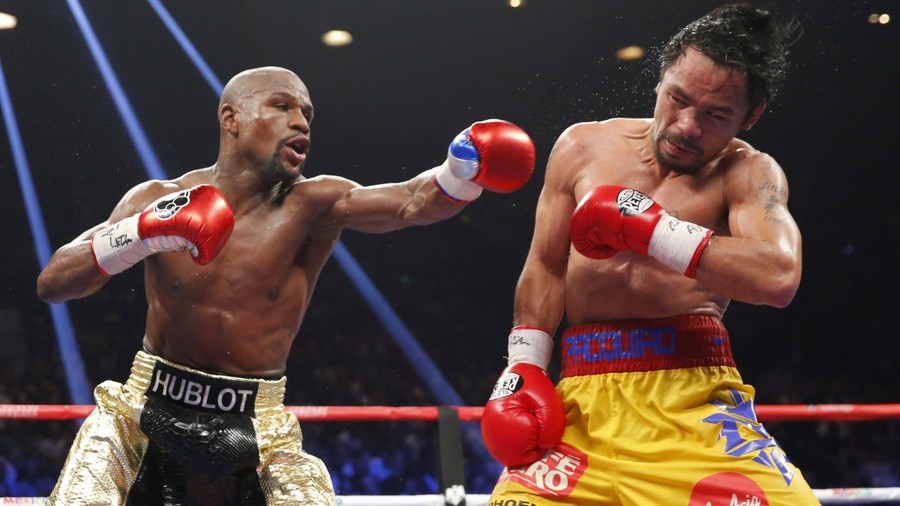 Mayweather has stepped through the ropes just twice since his unanimous decision win over Pacquiao. He defeated Andre Berto in September 2015 before announcing his retirement, then came back to defeat two-division UFC world champion Conor McGregor in the 10th round in August 2017.
The Las Vegas native recently confirmed he will contest a three-round boxing exhibition match in Toyko against Japanese kickboxing world champion Tenshin Nasukawa at mixed martial arts event Rizin 14 on New Year's Eve.
READ MORE: 'It's a no brainer': Mayweather says New Year's Eve bout with Nasukawa is back on
Meanwhile, Pacquiao bounced back from the Mayweather loss to defeat Timothy Bradley and Jessie Vargas in successive bouts, then lost to Australian Jeff Horn in June 2017.
The Filipino has since recovered with a seventh-round TKO of Lucas Matthysse in July 2018.
Now Pacquiao has signed with US promoter Al Haymon's Premier Boxing Champions and will face Broner at the MGM Grand in Las Vegas on January 19.
But the Filipino is already looking ahead to a potential bout with Mayweather, and with the American seemingly still keen to earn money from cherry-picked contests, a big-money rematch with "Pac-Man" could be on the table in 2019.
Mayweather posted to Instagram back in September to state his readiness to return and face Pacquiao again.
Pacquiao is certainly keen.
"It would be good to have another fight with him," he told the New York Post.
"I don't believe he won the last fight we had. I'm still surprised at the decision.
"It's good to have another [fight] if he comes out of retirement. I'm still here in boxing. It depends on him."