Man on a mission: Khabib heads to Nigeria to repair water supplies, build medical centers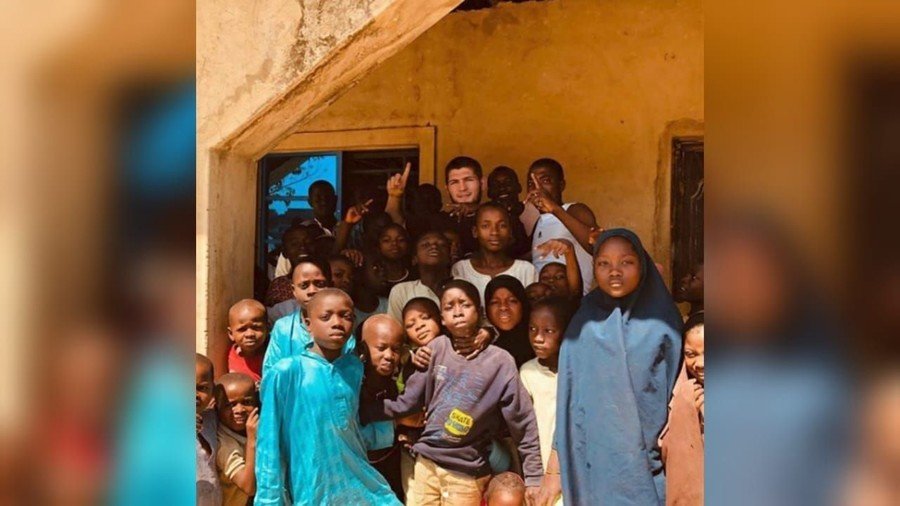 He is best known for bludgeoning opponents into submission in the MMA cage, but Russian UFC lightweight champion Khabib Nurmagomedov has shown a softer side by heading to Nigeria on a charity mission.
MMA journalist Ariel Helwani shared pictures of Nurmagomedov with local children, reporting that the lightweight king was in Nigeria with the main objective being to "repair water wells and build new medical centers."
He also shared footage which appeared to have been filmed by Khabib, who is heard describing a broken water well and saying: "these people need only water here."
Nurmagomedov has been the man of the moment following his dominant victory over Conor McGregor in Las Vegas in October - later meeting Russian leader Vladimir Putin among other world figures - but has now taken a timeout for charity work.
READ MORE: Khabib Nurmagomedov adds Turkish President Erdogan to list of high-profile meetings (VIDEO)
His efforts were praised by many online, including Justin Wren – an American MMA fighter-turned-humanitarian worker.
"I can surely applaud this effort. We are repairing 13 wells this month in villages that have been broken for years in Uganda. Stoked to see anyone get clean water," Wren wrote in response to Helwani's post.
Some Twitter users called 'The Eagle' "a great example of a champion," while others riffed on his famous "send me location" riposte to McGregor while praising Nurmagomedov's efforts.
Despite being among Africa's two biggest economies, oil-rich Nigeria has overtaken India as having the world's greatest concentration of extreme poverty, according to a paper earlier this year by the Brookings Institution think tank.
The paper estimates that 87 million Nigerians – around half the population – are living on less than $1.90 per day.
Even though Khabib is making efforts to help the situation, Twitter wouldn't be Twitter without the critics - with some users picking up on the fact that Khabib's team had sent the pictures to Helwani, arguing that the Russian grappler was merely using the trip as a PR stunt.
Nurmagomedov himself has so far made no fanfare about the visit on his own social media accounts, however, indicating that he was focused on keeping the trip low-key.
READ MORE: Khabib pays visit to Moscow child clinic charity event (VIDEO)
The undefeated MMA star's thoughts could soon turn to his own future as he and McGregor are set to learn their fate in December over the ugly brawl that marred their Las Vegas grudge fight.
The pair have been called to a Nevada State Athletic Commission hearing in December, where they are expected to learn what – if any – extension they will have to their current temporary suspensions.
Khabib has vowed to boycott the session, however, defiantly stating: "I'm not going, I'm not guilty. I started the fight and I finished as a man."
READ MORE: 'I'm not going': Khabib refuses to attend Nevada hearing for post-UFC 229 McGregor melee
You can share this story on social media: