Doomed Leicester City helicopter spirals out of control and crashes in horrifying footage (VIDEO)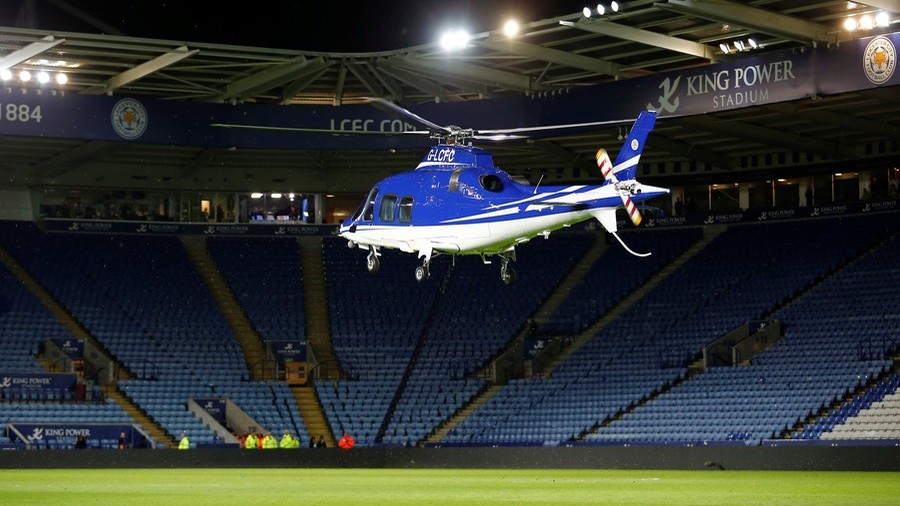 Footage of the moment a helicopter carrying Leicester City's owner Vichai Srivaddhanaprabha and four others suddenly spiraled out of control has emerged in a chilling new video.
The flight was part of the Thai billionaire owner's post-match routine, in which he would regularly take off from the center of Leicester City's King Power Stadium following home fixtures. But on Saturday the helicopter crashed onto a car park near the club grounds, killing all on board.
READ MORE: Vichai Srivaddhanaprabha: The billionaire behind one of sport's greatest ever stories
Now footage has emerged online showing the last seconds of the helicopter as it took off from the center of the pitch. It shows the aircraft rising slowly above the ground before entering into a sharp tailspin.
The helicopter continues it's terrifying spin before disappearing from view behind a stadium stand and crashing into the car park outside. Given the manner of the helicopter's descent, the new footage is the clearest indication yet that the aircraft suffered a malfunction.
"There definitely appears to be a problem with the tail rotor, which is every pilot's worst nightmare," former RAF pilot and aviation expert Jim Rowlands told The Sun. "There's no real coming back from that."
Meanwhile, a senior air crash investigator reportedly told Sky News that the accident began with a tail rotor failure.
READ MORE: Leicester City helicopter crash: Tributes laid as fans gather at stadium
The UK Air Accidents Investigations Unit is currently analyzing the wreckage and flight data to determine what caused the AW169 helicopter to crash.
In a statement, the authority said it is working to recover information from a data recorder pulled from the crash site.
"We recovered the digital flight data recorder (voice and data) on Sunday afternoon," the investigations team said. "Our inspectors in Farnborough will start working on the recorder, which was subject to intense heat as a result of the post-accident fire."
Like this story? Share it with a friend!