New US gymnastics chief quits citing 'personal attacks' from Simone Biles & Aly Raisman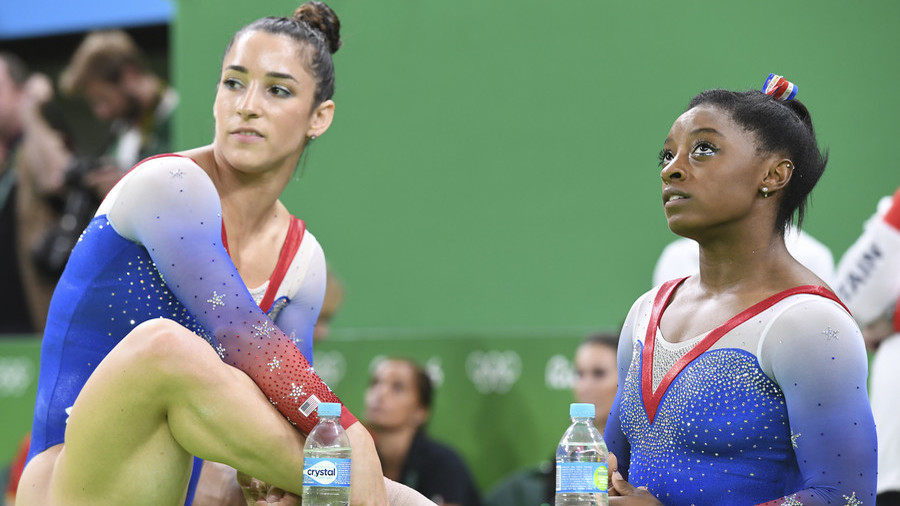 USA Gymnastics interim president Mary Bono has resigned just four days after her appointment following stinging criticism from Olympic champion gymnasts and Larry Nassar survivors Simone Biles and Aly Raisman.
Bono was made interim president of USA Gymnastics on October 12, but sensationally quit on Tuesday with the former Republican congresswoman citing "personal attacks" as the reason.
READ MORE: Simone Biles lashes out at new USA Gymnastics chief for 'anti-Nike' tweet
On Saturday, the day after Bono had taken up her role, four-time Olympic gold medalist Biles lambasted the newly-appointed chief for a tweet she had posted in response to the Nike advertising campaign featuring Colin Kaepernick. The post showed Bono using a marker to cover up the Nike logo on shoes.
"Mouth drop," Biles wrote, adding: "Don't worry, it's not like we needed a smarter usa gymnastics president or any sponsors or anything."
On Monday, Biles' fellow high-profile gymnast Raisman questioned Bono's appointment, citing the fact she was a senior vice president of Faegre Baker Daniels Consulting, an organization which had consulted the USAG in questions regarding the legal protection of doctor Larry Nassar in 2015 and 2016, when allegations against him began to surface.
"My teammates & I reported Nassar's abuse to USAG in 2015. We now know USOC & lawyers at Faegre Baker Daniels (Mary Bono's firm) were also told then, yet Nassar continued to abuse children for 13 months!? Why hire someone associated with the firm that helped cover up our abuse?"
In the statement released by Bono following her resignation, the now former USA Gymnastics head named "personal attacks" as the reasons behind the move.
"My withdrawal comes in the wake of personal attacks that, left undefended, would have made me leading U.S.A.G. a liability for the organization," Bono said.
READ MORE: Collapsing bars & medal hauls: The remarkable career of gymnastics legend Ludmila Tourischeva
"With respect to Mr. Kaepernick, he nationally exercised his First Amendment right to kneel. I exercised mine: to mark over on my own golf shoes, the logo of the company sponsoring him for 'believing in something even if it means sacrificing everything' – while at a tournament for families who have lost a member of the armed services."
In the wake of Bono's resignation, Raisman emphasized that her "objection to Bono's hiring was not personal" adding that she just wanted "new leadership to be disconnected from the influences that allowed these terrible things to happen."