'Spineless': Recriminations after Germany beaten 3-0 by Netherlands as woeful year continues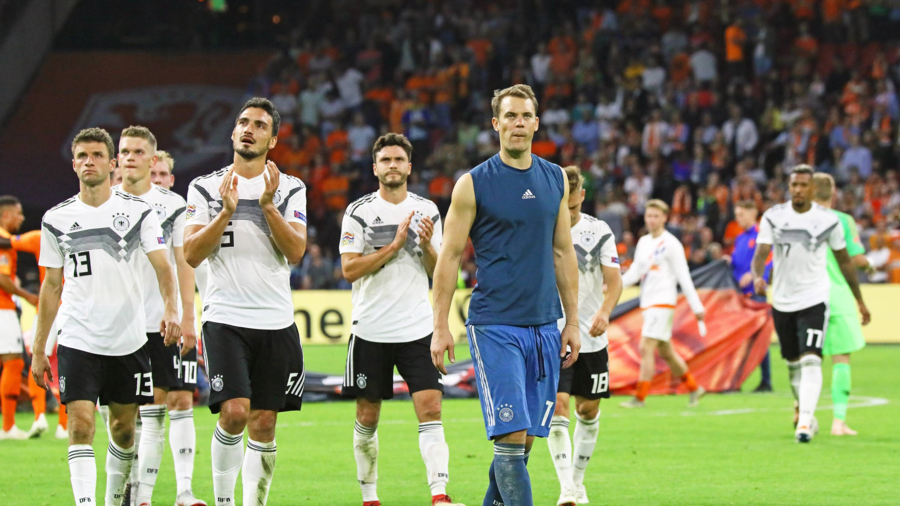 Germany have faced a furious backlash after enduring a 3-0 defeat to the Netherlands in the UEFA Nations League, continuing a woeful year for the four-time World Cup winners and leading to increased pressure on coach Joachim Low.
The Dutch ran out comprehensive winners in Amsterdam thanks to a header opener in the first half from defender Virgil van Dijk before Memphis Depay and Georginio Wijnaldum struck in the last 10 minutes.
It was the Netherlands' first win over their great rivals in 16 years, and was their biggest-ever winning margin over the Germans.
For Low's team, the defeat continued an alarming slump which saw the team exit the World Cup in Russia at the group stage despite being defending champions.
They have lost five games in a calendar year for the first time in three decades, and have lost six of their last 10 games in total.
They currently sit bottom of their UEFA Nations League group with one point, behind the Dutch and France – who will be looking to pile the pressure on when they meet the Germans in Paris on Tuesday.
It was a night to forget for Low, who was taking charge of the team for a record 168th time.
He criticized his team for "breaking apart" in the last 10 minutes, despite enjoying 60 percent of possession and having 21 shots.
The German media, meanwhile, slammed the performance as "spineless" and "abysmal," with DW writer Michael Da Silva saying the defeat"must spell the end for Low."
The headline in Der Spiegel called the result a "debacle," with one writer simply stating: "It won't get better."
Die Mannshcaft have also endured a tumultuous time off the pitch since the World Cup, with midfielder Mesut Ozil retiring from the team amid accusations of racism.
READ MORE: 'He doesn't want to talk to us' - Germany manager Low on Ozil Arsenal snub
Low was assured of his future after the World Cup debacle, where the team suffered defeats to Mexico and South Korea, although defeat against the holders France on Tuesday could spell doom for the man who has been at the helm since 2006.
The Dutch, in contrast, appear to have put their failure to qualify for the World Cup behind them as they rebuild under former player Ronald Koeman.