Stanley Cup 'damaged' during wild Capitals celebrations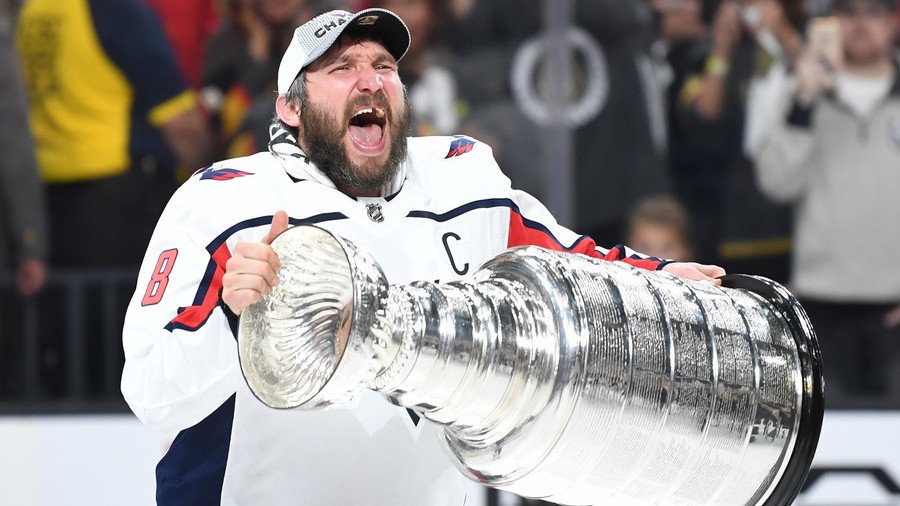 The Washington Capitals' wild Stanley Cup celebrations made their mark in more ways than one, reportedly causing damage to the giant silver trophy itself.
According to bardown.com, recent pictures of the silver chalice clearly showed damage wrought to the trophy after the Caps' raucous partying.
In June, the Washington Capitals beat the Vegas Golden Knights in the final of the best of seven series, clinching a first Stanley Cup in franchise history.
READ MORE: Ovi with the save! Washington Caps star protects wife from flying football (VIDEO)
Following the Capitals historic accomplishment, the cup embarked on a trip around to globe, visiting the home cities of players who helped the team to its maiden NHL championship – including following team captain Alexander Ovechkin to Moscow.
During the celebrations the players found creative uses for the trophy, including using it as a food plate and a baby's chair.
Capitals captain Ovechkin ate black caviar from the bowl during his celebrations in Moscow, while teammate Evgeny Kuznetsov filled the trophy with a traditional Russian dish – pelmeni.
The Caps players also started a new tradition by doing keg stands out of the Stanley Cup, a step which was met with skepticism by the keeper of the cup, Philip Pritchard, who was afraid the bowl could be damaged.
"We ask them [players] politely not to do it," Pritchard said. "We're trying to preserve the history of the Stanley Cup. We don't want any unnecessary damage to it or a person, in case they drop the person or he presses too hard or something."
Despite all the warnings the keg-stand drinking tradition gained popularity among the players, who continued their raucous celebrations throughout the summer break.
You can share this story on social media: