German footballers kicked off team for making 'Nazi salute' in photo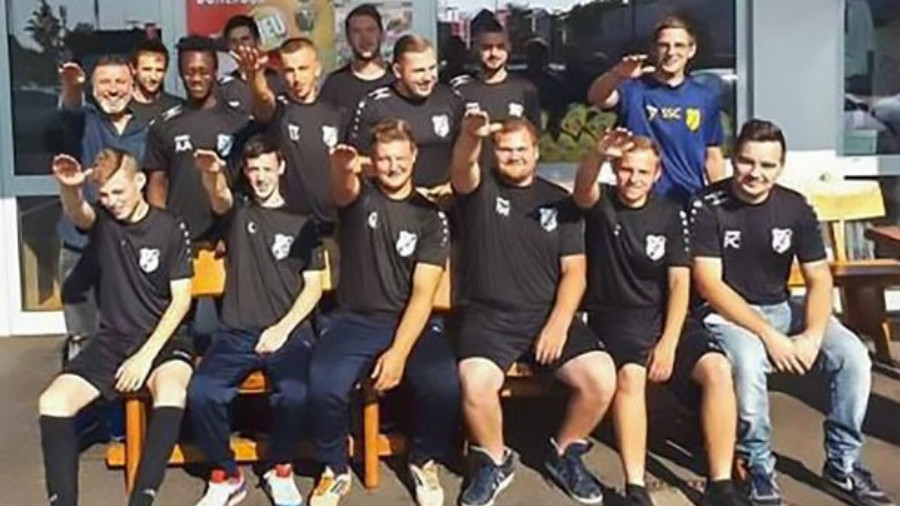 Seven German non-league footballers have been booted out of their club after appearing to perform Nazi salutes in a team photo, supposedly as a prank.
The players, from the second team of German non-league club SC 1920 Myhl, were snapped making the shocking salutes in a team photo taken by the club's shirt sponsor, kebab shop owner Engin Arslan.
Arslan had asked the players to do "something funny" for the photo, with seven of them pulling out the provocative pose in response.
Arslan later uploaded the photo to Facebook, although he quickly removed it.
The players – all aged between 18 and 27 – have now been kicked off the team amid the backlash.
"When we found out about it we immediately convened a board meeting," club chairman Marc Winkens said, the Sun reported. "According to our club rules, we could only reach the conclusion to expel the members."
Arslan has also been removed as a sponsor of the club – which plays in the town of Wssenberg in the state of North Rhine-Westphalia. The kebab shop owner also says he has had his banner removed from the club's ground.
The players have apologized for their actions, posting picture in which they hold a banner reading: "Sorry... to all the people we have hurt with our rash action."
Arslan has also expressed his remorse, saying: "It was a huge mistake on my part and for that I apologise to the individuals, to the club too... But apparently that won't do any good – I'm sorry for the boys."
Making the Nazi salute is banned in Germany, and the authorities are said to be looking into the case.
READ MORE: Nazi salutes & attacks on police probed after rally in German city
Germany has seen considerable unrest in recent weeks amid demonstrations from far-right and far-left groups. A rally in the city of Halle earlier this week saw clashes with police and Nazi salutes and slogans.
You can share this story on social media: