'Deontay Wilder is in a league of his own': Wilder and Fury sparring partner makes prediction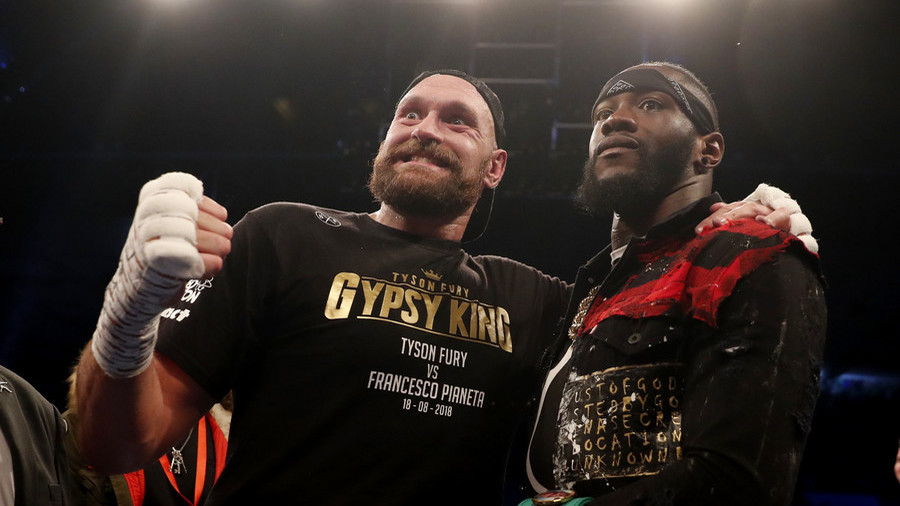 Richard Towers, a now-retired heavyweight boxer who has sparred with the biggest names in the game, says that Deontay Wilder's natural power is vastly superior to that of Tyson Fury.
What exactly will happen when Tyson Fury and Deontay Wilder, two of the biggest characters in all of boxing, meet in the ring later this year is a source of some debate for pugilism fans – but there is one man who is uniquely qualified to give a prediction.
Richard Towers, a 6ft 8in former heavyweight who was defeated just once in his professional career, has sparred with most of the big names in the heavyweight division, including both Wilder and Fury. He says there's only one way the bout will go.
"I've sparred with every heavyweight you could think of, except Joseph Parker. And I know when it comes to power, Deontay Wilder is in a league of his own," Towers said, as cited by The Sun.
SEE MORE: WBC champ Deontay Wilder crashes weigh-in, confronts Tyson Fury (VIDEO)
"Put it this way: He hits FOUR times harder than Vitali Klitschko, he hits FIVE times harder than Wladimir Klitschko, he hits SIX times harder than Anthony Joshua, and he hits EIGHT times harder than Tyson Fury," he added.
Both Fury and Wilder remain undefeated in their professional careers but it is the American who has been the more active fighter in recent times. Fury defeated Wladimir Klitschko in November 2015 to become world heavyweight champion, but has fought just twice since then, having been stripped of his world titles in the process.
READ MORE: 'He's filled with energy & high spirits' - Deontay Wilder praises disabled fan on trip to N. Ireland
Wilder has fought five times in the same period and, as such, Towers suggests that the time is not right for Fury to take on an opponent as dangerous as Deontay Wilder.
"We sparred on and off for two years and he was great, but I have to be honest: this is the wrong fight to take right now. It really is. Tyson has just come back on the scene and, although he is a grafter, this isn't the ideal time for him to fight Wilder. He is moving OK against easy opposition, but he has got a big body and a big head to move out of the way for 12 rounds against Wilder. That's no easy task," concluded Towers.