Weekend of dramatic crashes: Chevrolet at NASCAR and Lamborghini in Belgian Grand Prix (VIDEO)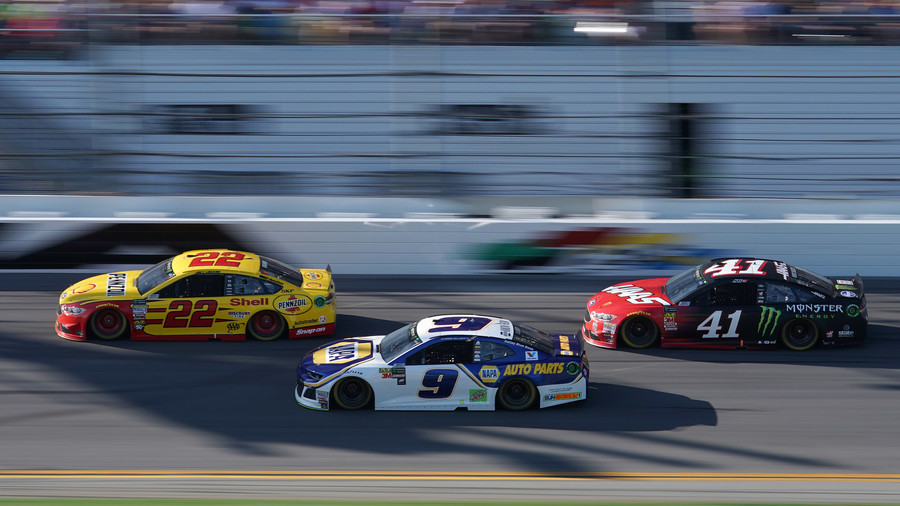 Two dramatic crashes have shocked the racing world over the weekend. First, Swedish racing driver Fredrik Blomstedt totaled his Lamborghini at the Belgian Grand Prix, then Bubba Wallace crashed his Chevy at a NASCAR Cup race.
The Monster Energy NASCAR Cup race at Pocono Raceway in Pennsylvania took a surprise turn for Bubba Wallace, who lost his brakes on the front stretch on Sunday. The stalled brake system forced the 24-year-old to run through the pitch of grass, before heading straight up the track and slamming his Chevrolet Camaro into the outside wall. The whole stadium stood still for a few seconds waiting for Wallace to drop his window net, a sign given by the driver to show that he is alive and well. Eventually, the driver signaled that he had survived the crash.
The wreck was the "hardest one of my career," he said after the crash. "There's no feeling like being helpless in that situation, going off into Turn 1 and it scared the hell out of me."
"I didn't know if I was going to remember it when I hit or not. We're good. Bit my cheek, banged my foot off the pedal. I'm okay though. I'll wake up tomorrow (and) be a little sore, but the safety has come a long way so it's good to be able to climb out of the car," Wallace told Motor Sport.
The NASCAR crash was not the only incident that rocked the high-speed racing world over the weekend. Belgium's Spa-Francorchamps was interrupted by Fredrik Blomstedt's crash.
Blomstedt was leading the race when his Lamborghini, doing over 200km per hour was tapped by Lucas Mauron in heavy traffic. The impact sent the racecar straight into a barrier where four race marshals were watching the race. The crash ripped the Lamborghini's front end, spinning the car around.
The driver and all four marshals sustained injuries, according to Motorsport. While three of them did not need hospitalization, one marshal and Blomstedt were transported to a nearby hospital with non-life-threatening injuries. The race was red-flagged and delayed by about 90 minutes. Blomstedt was released from the hospital on Sunday and is currently suffering from a light form of amnesia.
Horrific car crash during Kansas race caught on camera (VIDEO)
"It has been a very strange day for me, and I've been in shock for most of it. I do not remember anything about the accident itself, but some other memories have begun to come back, which is positive," Blomstedt told Swedish Aftonbladet on Sunday. "I have pain in my hands and the left leg, but I understand that it could have gone a lot worse than that. I'm glad we all managed as well as we did."
Like this story? Share it with a friend!