Horrific car crash during Kansas race caught on camera (VIDEO)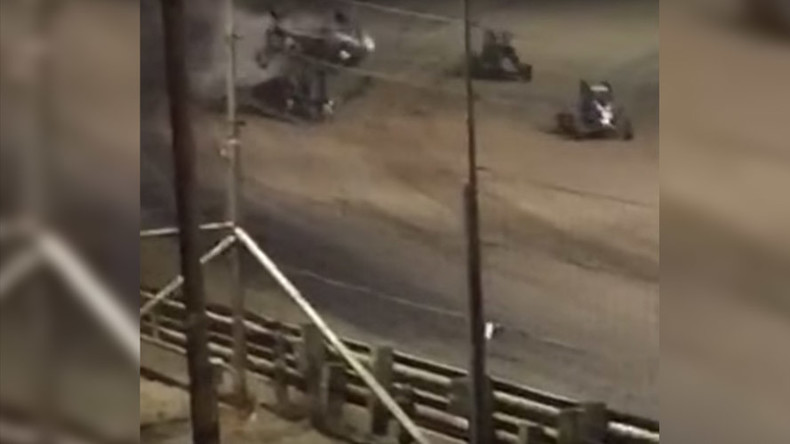 Onlookers at the Belleville High Banks midget race in Kansas shuddered in horror after a horrific car crash. A vehicle crashed into the fence and went into a series of snap rolls before landing on its side. Thankfully the driver miraculously survived.
The incident took place in the city of Belleville, Kansas during annual Belleville Midget Nationals race, which features miniature-racing cars, on Saturday night.
Shortly after the start of the race 27-year-old Bryan Clauson took the lead from Chad Boat who later won the championship. Clauson started to pull away and was about to lap a driver on the dirt track, according to the Racer motorsports magazine.
The video of the incident shows Clauson getting shunted into the fence by the car he was in the process of lapping. The vehicle went into a series of snap rolls before landing on its side and then was horrifically struck by another car.
The racing driver was reportedly stuck in the cockpit and it took some 30 minutes for rescue workers to free him.
Clauson was later airlifted to a hospital in Lincoln, Nebraska. A friend of the family told the Racer magazine that Clauson was breathing on his own, but did not provide any further information.
The Belleville High Banks is a historic dirt track built over 100 years ago and brings scores of motorsport enthusiasts to Kansas.
"The race track is BAD FAST, allowing those who can hold on an opportunity to run "wide open" the entire track!" the organizers of the event wrote on their Facebook page.