'Biggest on-court fight in a decade' breaks out at Australia-Philippines basketball game (VIDEO)
Published time: 2 Jul, 2018 15:39
Edited time: 3 Jul, 2018 16:04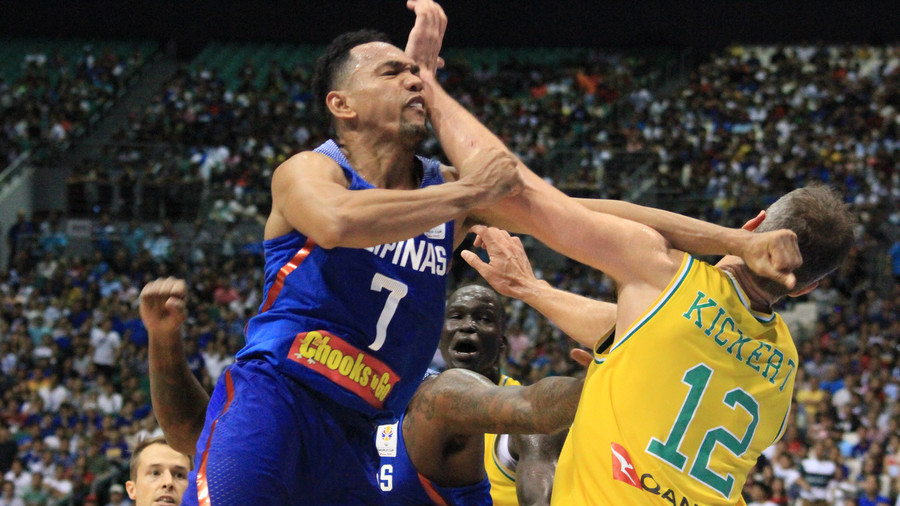 A basketball game between Australian Boomers and the Philippines descended into chaos, as the match erupted into a vicious fight – including a flying kick from NBA player Thon Maker – during a FIBA World Cup qualifying match.
The all-in-brawl broke out at the Philippine Arena, south of Manilla, when Australian Boomers player Chris Goulding was sent crashing to the floor after a heavy shove from a Filipino player.
With four minutes left in the third quarter, it took an apparent elbow from another Australian player, Daniel Kickert, to set off the home team, with both benches clearing and players throwing chairs and wild punches that could leave even the most seasoned street fighter stunned.
The absurd clash was caught on camera and beamed live around the world by sports broadcasters, with players in Australia shocked as Kickert was seen being chased around the court by fed-up Filipino players. Players piled on top of each other as fists and chairs went flying, and one Australian player could be seen pinned under a courtside chair while being punched by a number of players from the home team.
In a case of 'prepare to meet your Maker', NBA player Thon Maker was seen entering the fracas with a flying kick, as chaos reigned for more than a minute. Andray Blatche from the Philippines team was spotted throwing a clothesline, while the crowd got involved, throwing bottles and booing.
Once referees regained control over the chaos, a tape of the brawl was reviewed and a total of 13 players were ejected from the game, nine of which were from the Philippines. The score ended in Australia's favor at 79-48, when officials called off the game after repeated (and seemingly intentional) fouls from the Philippines.
FIBA officials have now confirmed that an investigation will be launched into the "incident" at the end of the third quarter. Both teams will face disciplinary hearings.
Think your friends would be interested? Share this story!