English fan gets football ban after giving Nazi salute in city of Stalingrad battle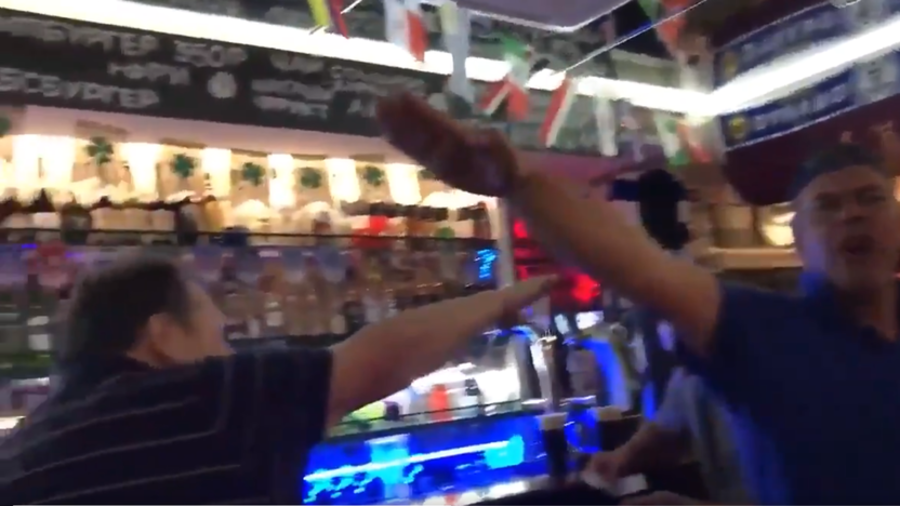 One of the English fans that was filmed giving Nazi salutes and singing a Hitler song in a bar in the Russian city of Volgograd, the site of a major WWII battle, has been banned from attending games for five years by a UK court.
British police and the Football Association launched a joint investigation after footage emerged online showing English fans performing Nazi salutes, shouting "Sieg Heil" and singing songs glorifying the Third Reich. The video was shot on Monday at a bar in Volgograd, the city known as Stalingrad during World War Two, where more than 2 million people died.
Three men were served notices and appeared before courts in England on Saturday, local media reported. Michael Herbert, 57, was slammed by the ban at Leicester Magistrates' Court, while David Batty, 58, and Michael Burns, 52, appeared at a hearing in Leeds, but their case was adjourned until Tuesday.
"The disgraceful conduct of the individuals in this video does not represent the values of the majority of English football fans supporting the team in Russia," the Football Association said in a statement before the hearings.
The song in the video was apparently aimed at fans of Tottenham Hotspur - nicknamed 'Spurs' - and it included the lines: "Spurs are on their way to Auschwitz, Hitler's gonna gas them again." Apart from the despicable comparison, the song was performed in the city that saw the bloodiest battle of World War Two a few days before June 22, when Germany invaded the then-Soviet Union.
You can share this story on social media: