Washington Capitals win 1st Stanley Cup in franchise history, defeating Vegas 4-3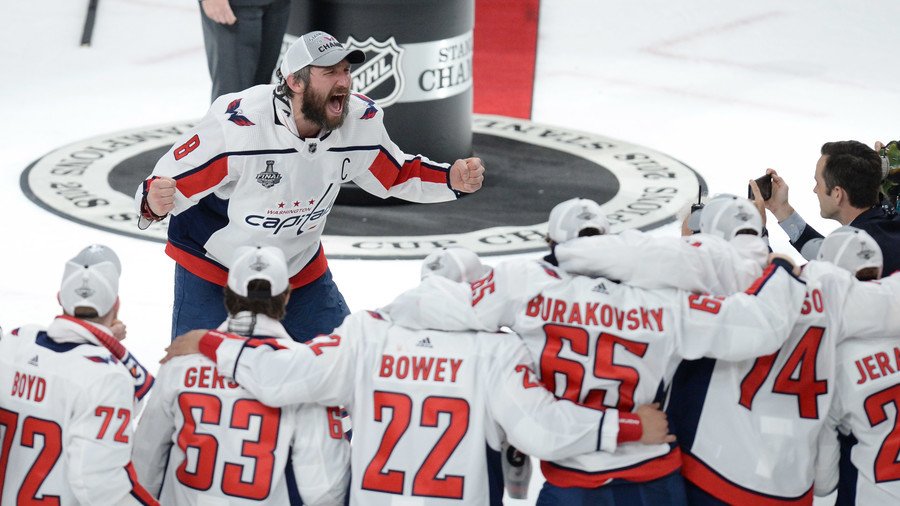 The Washington Capitals defeated the Vegas Golden Knights 4-3 in game 5 of the Stanley Cup Finals to claim the franchise's first NHL championship ever.
After a goalless first period, Jakub Vrana opened the scoring for the Capitals 6:24 into the second period. Three minutes later, Nate Schmidt tied it up for the Golden Knights. It didn't last, with Alex Ovechkin netting another one for the Capitals less than a minute later. David Perron scored Vegas' second goal with seven minutes to go in the second period.
With little more than two minutes to go in the second period, Ovechkin was penalized for tripping William Karlsson, and soon, the Knights' Reilly Smith scored the third goal for his side.
Devante Smith-Pelly then tied the score again, netting the Caps their third goal in the middle of the third period. Lars Eller then put the Caps ahead for good with the fourth goal.
The Capitals' previous best result was recorded 20 years ago, when they reached the 1998 Stanley Cup Finals, only to lose four straight games in a best-of-seven series to the Detroit Red Wings.
Since that time, the Caps had not advanced past the second round of the playoffs, including 11 seasons with Alexander Ovechkin, who joined the team in 2005.
A seemingly endless string of playoff defeats led many to believe the Caps were plagued with a 'playoffs curse,' preventing them from making it past the second round.
Last season, the squad won 56 games and the Presidents' Trophy for the best record in the league, but they were knocked out of the playoffs in the second round (for the second year in a row) by the defending Stanley Cup champions, the Pittsburgh Penguins. Prior to this season, the Capitals had defeated the Penguins in the playoffs only one time in 10 tries.
The Capitals avenged last year's early exit by eliminating the Penguins in the second round, 4-2.
In the Eastern Conference Finals, the Caps faced tenacious resistance from the Tampa Bay Lightning, but took the series in seven to advance to the Stanley Cup Finals against the Golden Knights.
You can share this story on social media: