De Gea 'refuses' to applaud Spanish PM after rape claim criticism 2 years ago
Published time: 6 Jun, 2018 15:23
Edited time: 6 Jun, 2018 15:31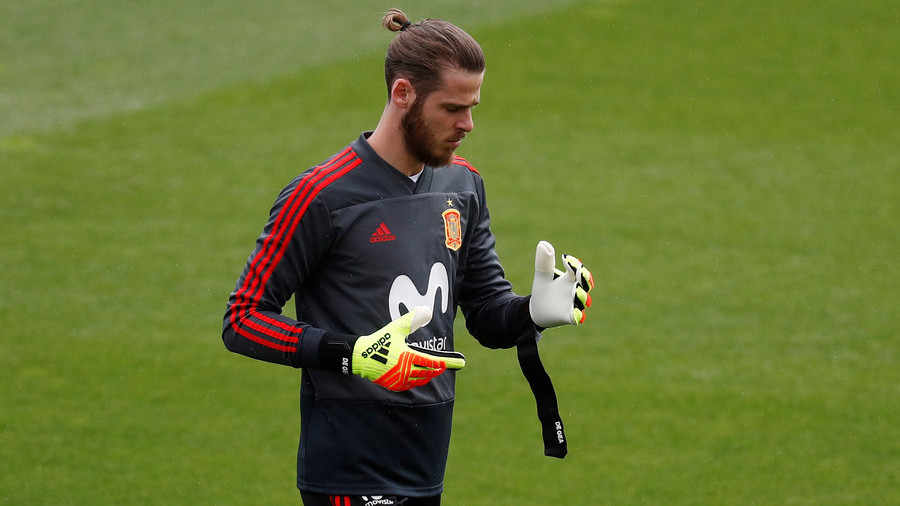 Spain goalkeeper David de Gea refused to applaud Prime Minister Pedro Sanchez on a visit to the team's pre-World Cup training base in Madrid on Tuesday due to criticism during a 2016 rape investigation.
In 2016, an unnamed prostitute accused De Gea of organizing an orgy with a porn director in 2012 where she says he and another well-known Spanish international player physically and sexually abused her and another woman.
During the investigation, Sanchez commented: "I don't feel comfortable with De Gea as the national team's goalkeeper."
Footage of his visit to the team's pre-World Cup training base in Madrid on Tuesday shows De Gea keeping his hands firmly in his pockets while other players clapped Sanchez following a speech.
The claims from the woman later turned out to be false and De Gea and the other player were not called to give evidence at an investigation.
Spanish media were quick to interpret De Gea's actions as a deliberate snub to the new leader.
Marca wrote: "David de Gea was cold and distant with the Spanish PM." Online daily El Espanol wrote: "De Gea ignores and doesn't applaud Pedro Sanchez two years after he 'accused' him of child abuse."
READ MORE: Patriotic predicament as Mourinho backs Spain over Portugal in RT's World Cup predictor
Although De Gea did shake hands with Sanchez, he wore a stern gaze while greeting the Spanish leader in contrast to the rest of the players.
The Manchester United goalkeeper commented on the situation: "I think there was a time when I wasn't treated as I should have been. Many people criticized me knowing that what had been said wasn't right," the Independent reported.
Spain are currently gearing up for the Russia 2018 tournament, where they face a crunch match against European champions Portugal in Sochi in their opening game.