Coach of UFC fighter apologizes for Nazi tattoo
Published time: 5 Jun, 2018 15:11
Edited time: 6 Jun, 2018 10:09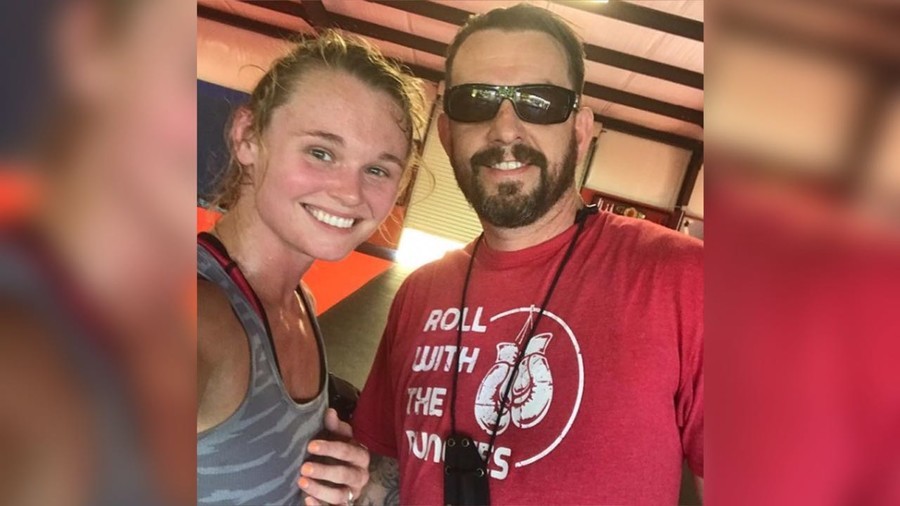 Donny Aaron, the husband and coach of UFC fighter Andrea Lee, has apologized for having a swastika inked on his arm. He said his tattoos tell the story of a 'dark time' and 'do not accurately represent who he is today.'
UFC flyweight Lee made her debut in the Octagon last month, receiving the fight of the night bonus after her unanimous decision victory over Veronica Macedo in Chile.
Last Friday, Lee posted a picture of herself and her husband spending time together on a lake. Social media users quickly spotted swastika tattoo on Aaron's left forearm and lambasted the couple for their alleged Nazi sympathies.
Meticulous internet users dug up another picture of Aaron, which showed that he has SS lightning bolts tattooed on his right arm.
Lee emotionally reacted to the backlash on social media, calling the internet critics "sensitive ass mofos" who paid too much attention to the tattoo. "Oh my gosh guys it's just a tattoo he got when he was in prison, get over yourselves," she wrote.
She later changed her tune, sounding more apologetic, saying that she tried to defend her husband and didn't mean to offend anyone by her initial response.
Aaron himself addressed the tattoo issue on his Twitter page, delivering apologies to the MMA community, sponsors, and fans who might be offended by the Nazi emblem on his arm.
"I'd most like to apologize to Andrea and my brother Kendrik for putting them in a position to feel they need to defend me when there is no defense or justification for the abhorrent tattoos that I ashamedly wear," he wrote.
"These 'scars' tell my history which include a dark time when I was imprisoned. However, they don't accurately represent who I am today as a person, my personal belief system and respect I have for people of all races and religion."