'Young heroes': American youth football team rescues couple from overturned car (VIDEO)
Published time: 1 Jun, 2018 14:06
Edited time: 1 Jun, 2018 15:20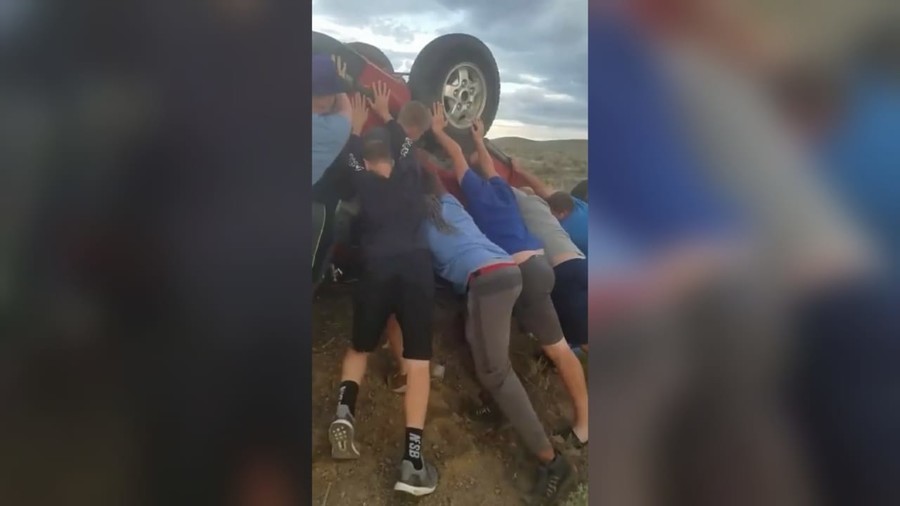 An American youth football team have been hailed as heroes after they helped rescue two people from an overturned car.
The Boise Black Knights were driving though Oregon on Tuesday on the way back from a tournament when a car in front of a team van overturned, trapping the two passengers inside.
Members of the team, which is mainly made up of 13- and 14-year-olds, were quickly out of their vehicles to help rescue the stricken passengers. They first helped to drag one person from the crashed car, before working together to lift the other side so that the other passenger could escape the wreckage.
Footage from the incident shows the youngsters putting their teamwork into action to carry out the rescue.
The youngsters have been hailed as heroes for the rescue, and coach Rudy Jackson paid tribute to his team in a post on Facebook which included footage from the aftermath of the incident.
"I'm so proud, these boys are great kids on and off the field," Jackson wrote. "When we talk about football there's a lot about life that goes into that, and it started as football champions and ended as young heroes.
"Great job guys you should hold your head high and be proud of each other," the coach added.
The couple injured in the crash, Alan and Margaret Hardman, both 65, suffered broken bones as well as cuts and bruises, but are expected to recover, according to the Idaho Statesman. Their crash was reportedly the result of high winds flipping the vehicle over.
The team of young heroes paid a visit to the pair on Thursday to check on their progress.
"I don't know how we would have done it without them," Alan Hardman told the Idaho newspaper, adding: "They didn't even hesitate."
The team carried on their way after the rescue, and were even gone by the time local police arrived at the scene.
Coach Jackson said the players took the episode in their stride and had later acted as if nothing had happened.
"I'm more than proud. I'm at a loss for words," Jackson said. "They got out of the car like they were supposed to do that... it's a great bunch of kids."
The team play in the Rocky Mountain Youth Football League, where they have enjoyed an unbeaten season, and have also clinched victory in the regional BASFL Tournament final.
With their rescue feat, the youngsters proved they are winners both on and off the field.