Ban the Arsenal badge? Sterling gun tattoo row leads to lampooning of Gunners logo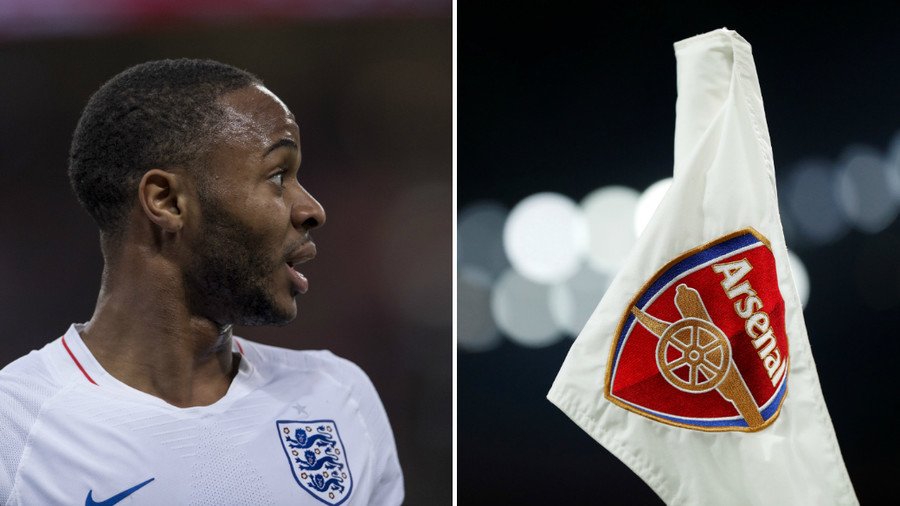 The online debate continues to rage over England football star Raheem Sterling's new gun tattoo, with the latest twist seeing Twitter users mockingly blast the logo of Arsenal FC, which features a cannon.
Sterling, 23, showed off the assault rifle inking while training with the England squad on Monday, triggering fierce debate over whether the tattoo was appropriate for someone considered a role model to many young football fans.
British tabloid the Sun led with the image on its front page, slamming the player with the headline "Raheem shoots himself in the foot," while UK TV star Piers Morgan didn't hold back, telling the England and Manchester City star to "get that gun off his leg."
However, others defended the player's right to choose the tattoo, with former England striker Gary Lineker tweeting that the "persecution" of Sterling was "disgusting."
That prompted a back-and-forth with Morgan, which led to liberal Twitter doyen Lineker dragging the TV presenter's beloved Arsenal FC into the row.
"What next? Ban films with guns? The Arsenal badge? It's his business what kind of art he has tattooed on his body," Lineker wrote.
The Twitterati were only too happy to oblige at the suggestion of removing one of the essential elements from the London club's badge, with Si Lloyd tweeting a pic of the Arsenal logo, minus the offending cannon.
Twitter users added to the thread to back both sides, with some calling avid Arsenal fan Morgan "a weapon" and suggesting that banning the Arsenal badge altogether "wasn't a bad idea."
Some made light of the other things that should potentially be banned in light of Sterling's tattoo:
Others backed the TV presenter, with Twitter user Jeremy Skidmore saying: "There has to be a line, especially when you are a role model to millions. What if a footballer had a tattoo of a graphic sex act, or worse, attack on someone?"
Morgan went on to cite his record of campaigning against gun violence, while Lineker implied that the former tabloid newspaper editor was merely seeking attention.
Footballer Sterling, who is currently training with the England squad ahead of this summer's World Cup in Russia, has explained that the tattoo is a tribute to his late father, who was gunned down in Kingston, Jamaica, when the player was a youngster.
"When I was 2 my father died from being gunned down to death I made a promise to myself I would never touch a gun in my lifetime I shoot with my right foot so it has a deeper meaning," he wrote in an Instagram post.
READ MORE: 'Like Grace Jones doing the robot dance': Sterling gun tattoo triggers polarizing online debate
Sterling will be traveling to Russia with the England squad within the next couple of weeks, ahead of the team's World Cup opening game against Tunisia in Volgograd on June 18.
You can share this story on social media: