'Like Grace Jones doing the robot dance': Sterling gun tattoo triggers polarizing online debate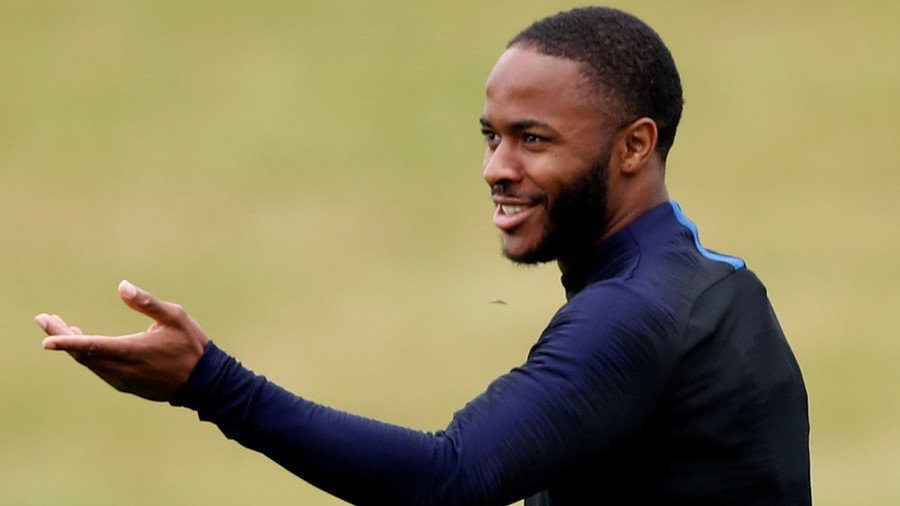 England forward Raheem Sterling's new tattoo of a machine gun on his right leg, a tribute to his late father, has polarized social media users, with some lambasting and others lampooning the design.
Sterling showed off his new ink of a machine gun on his lower leg during an England training session at The Three Lions' base at St George's Park on Tuesday as he and the team continue their preparations for World Cup 2018.
The tat has already angered anti-gun campaigners as well as TV host Piers Morgan, who took issue with the design at a time when debate rages about gun laws amid a spate of mass shootings in the US in recent years.
Morgan wrote: "Get that gun off his leg" in response to a post from fellow presenter Dan Walker, who criticized The Sun's story admonishing the player for the tattoo.
In an Instagram story post responding to the brouhaha, Sterling explained he had the weapon etched onto his leg in tribute to his father, who was cut down by gunfire in Kingston, Jamaica, when the player was an infant.
"When I was 2 my father died from being gunned down to death I made a promise to myself I would never touch a gun in my lifetime I shoot with my right foot so it has a deeper meaning," he wrote.
All these people demanding Raheem Sterling to be dropped from the England squad for a tattoo need to fix up. Stop getting offended at stupid things you probably let your kids play COD and Fortnite with guns you spanners. Media has always been a disgrace towards him. pic.twitter.com/DRkJhei1vP

— Danny Rai (@R9Rai) May 29, 2018
Manchester City winger Sterling, who won the Premier League with his club side last season, then signed off with the cryptic message: "N still unfinished."
There have even been calls from the media to drop Sterling from the England World Cup squad entirely, even for him to be fined by City.
There are calls for Raheem Sterling to step down from England's World Cup squad following his decision to have a gun tattooed on his leg. Which side are you on? pic.twitter.com/thN3YekOiY

— Good Morning Britain (@GMB) May 29, 2018
Raheem Sterling ur sick n disgusting. Gun violence is NO JOKE! Sterling should be dropped from the England squad n fined by Man City. A terrible thing! pic.twitter.com/uJi5Ve8I7v

— Sean from enderby (@seanfromenderby) May 28, 2018
The Twitterati have had their say on the matter, with many rallying against Morgan and siding with Sterling, while others have mocked the design.
One user said it resembled Grace Jones performing the famous robot dance, which was perfected by another England striker Peter Crouch.
Others were keen to ridicule the outrage at the body art.
If Jamie Vardy doesn't lift Sterling's right leg up and pretend to fire it after a goal at the World Cup, there's no point in any of this

— Lee Wallace (@_lwallace) May 29, 2018
So what if Raheem Sterling has a tattoo of a gun? Wayne Rooney has a Stereophonics tattoo. I know which one I find more offensive.

— Steamed Dans (@Danny_McMoomins) May 29, 2018
Summary of things Raheem Sterling can't do according to the English press:- Stay in nightclubs until 3am- Put a nice sink in a house- Fly with EasyJet- Drive a dirty car- Propose to his girlfriend- Eat breakfast- Shop in Poundworld- Eat something from Greggs

— 🐝 (@Beardamendi) May 28, 2018
Founder of Mothers Against Guns Lucy Cope, who formed the group after her son was shot dead in 2012, has called for Sterling to be pulled from the England team unless he removes the tattoo.
Speaking in The Sun, she said: "This tattoo is disgusting. Raheem should hang his head in shame. It's totally unacceptable.
My final thought today on Sterling-gate: England footballers don't tattoo large guns onto their legs before World Cups without expecting the exact reaction Raheem's ink work has inspired today. So, I'd like to hear him explain it in more detail.

— Piers Morgan (@piersmorgan) May 29, 2018
"We demand he has the tattoo lasered off or covered up with a different tattoo. If he refuses, he should be dropped from the England team. He's supposed to be a role model but chooses to glamorize guns."
England play their first game at Russia 2018 against Tunisia at Volgograd Arena on June 18, four days after the opening game between hosts Russia and Saudi Arabia at Luzhniki Stadium in Moscow.
You can share this story on social media: