Sergio Ramos rubs salt into Liverpool's and Salah's wounds with cheeky 'Salt Bae' snap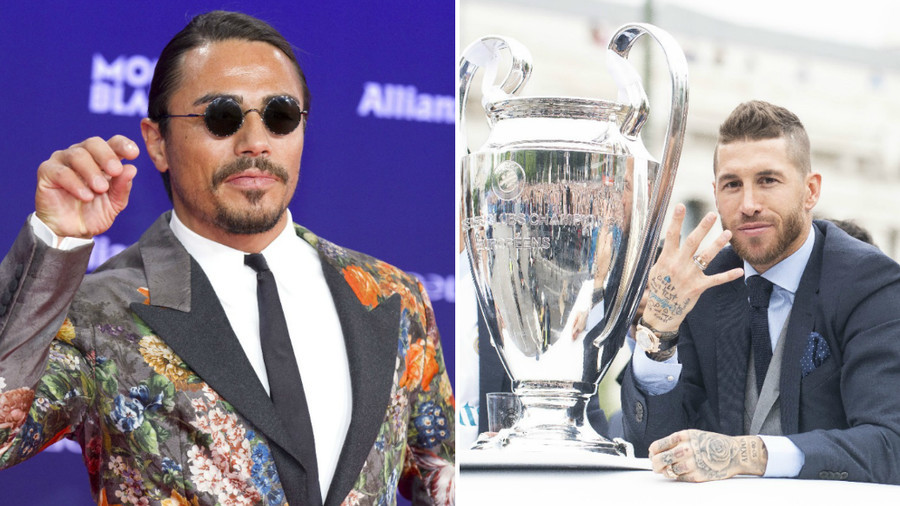 Supervillain Sergio Ramos quite literally rubbed salt into Liverpool's wounds after Real Madrid's Champions League victory, being snapped with Salt Bae imitating the restaurateur's famous condiment sprinkling technique.
READ MORE: 'You're a coward, prove me wrong': Livid Liverpool fan challenges Ramos to boxing match
Ramos became public enemy number one after becoming involved in a tussle with Egypt and Reds forward Salah that forced the latter to be subbed off in tears with shoulder ligament damage. Real went on to win 3-1 against Liverpool, minus their 44-goal man Salah.
Turkish restaurateur Salt Bae, real name Nusret Gökçe, uploaded a video to his instagram account of himself and Ramos with the Champions League trophy after the game, titled "congratulation my friend all diverse thank you so much for everything."
Steak house magnate Gökçe became a viral hit with his flamboyant method of seasoning meat, which involves sprinkling a pinch of salt from his hand with his arm shaped like a swan.
In a cheeky move, Ramos imitated the sprinkling of salt into the famous Champions League trophy, Real's third successive title. The action could be interpreted as a slight gloat aimed at Salah and Liverpool.
READ MORE: Liverpool fans' petition for UEFA to ban Ramos reaches 150,000 signature target
Oddly, just minutes earlier, Gökçe had posted a picture with Salah, who was resting his injured shoulder in a sling, with the caption: "I wish you all the best And my congratulations God bless you Mo Salah."
Fans were quick to vent their anger at Ramos, accusing the Madrid captain of deliberately injuring Salah. Some fans went as far as to create an online petition titled 'UEFA & FIFA should punish Sergio Ramos for intentionally hurting Mohamed Salah", which has already reached its target of 150,000 signatures.