'You're a coward, prove me wrong': Livid Liverpool fan challenges Ramos to boxing match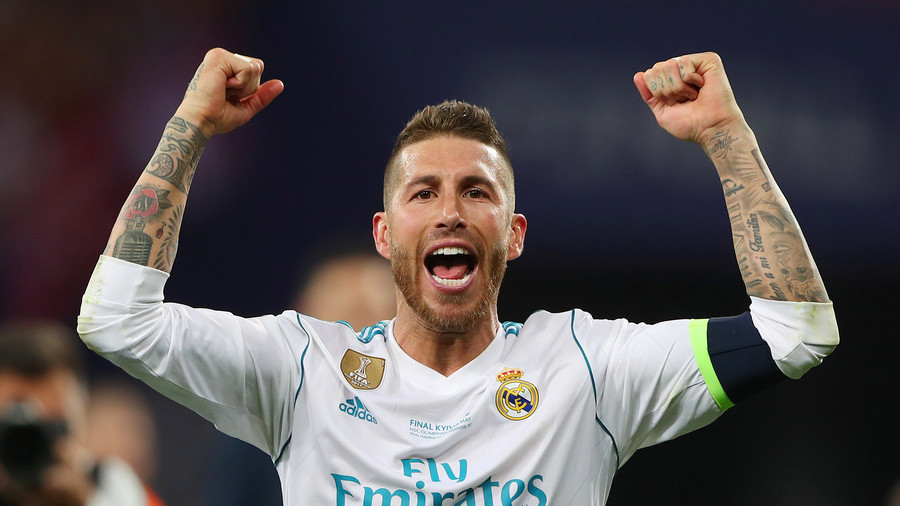 Irate Liverpool supporter Mark Moraghan has branded Sergio Ramos a "coward" and challenged the Real Madrid defender to a boxing match after blaming him for deliberately injuring Mo Salah.
Salah suffered a dislocated shoulder and was subbed off in tears in the first half of Saturday's Champions League final against Real Madrid, after a coming together with Ramos sent the both sprawling to the floor.
Some Liverpool fans believed that Real captain Ramos purposely intended to injure Salah. The 44-goal man was the Reds' greatest attacking threat in the game.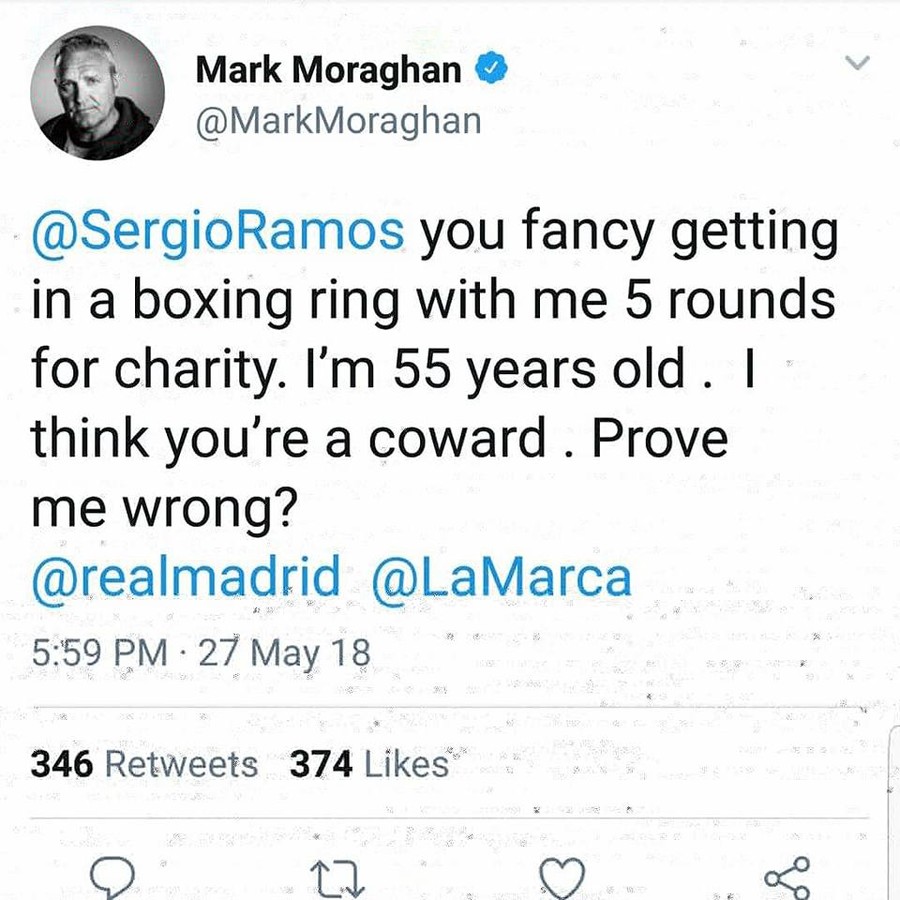 Former actor Moraghan, tweeted Ramos saying: "Fancy getting in a boxing ring with me 5 rounds for charity. I'm 55 years old. I think you're a coward. Prove me wrong?"
Hopping-mad Moraghan, who appeared in British soap drama Brookside, which is set in Liverpool, then followed his tweet up with: "I know I will get stick for this. I don't care. I am being genuine. Sergio Ramos if I had a glove I would slap your face.
"You are a coward. Charity boxing is a big thing right now. Do you do charity work? I will fight you anywhere, anytime! #coward."
Predictably, social media users were quick to jump on the tweet, making light of Moraghan's angst with various quick-witted tweets, gifs and memes.
Responding to the Twitter brouhaha, Moraghan then cryptically tweeted: "My work here is done."
Real went on to win the final 3-1 in Kiev with goals from Karim Benzema and a spectacular double from Gareth Bale cancelling out a Sadio Mane equalizer.
Liverpool goalkeeper Loris Karius was guilty of two howlers that gifted Real their first and third goals and eventually led to their 3rd successive Champions League title.
A large chunk of Liverpool's fanbase shared Moraghan's views, going as far as to create a petition titled: "UEFA & FIFA should punish Sergio Ramos for intentionally hurting Mohamed Salah", which has reached over 325,000 signatures.
Others looked at Vladimir Putin to blame, claiming that the Russian president mysteriously arranged for Salah to be injured so the striker would not face Russia in their World Cup 2018 Group A game against Russia on June 19.
The player himself issued a reassuring message to fans on his fitness, tweeting: "It was a very tough night, but I'm a fighter. Despite the odds, I'm confident that I'll be in Russia to make you all proud. Your love and support will give me the strength I need."
The Russia 2018 World Cup kicks off on June 14, when hosts Russia take on Saudi Arabia at Luzhniki Stadium in Moscow, and runs through to July 15.