UEFA Champions League Final 2018 - Real Madrid 3-1 Liverpool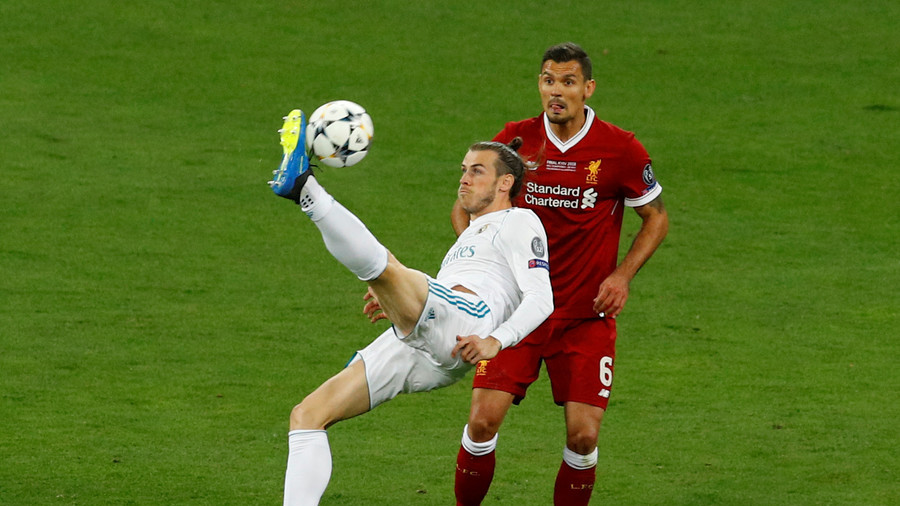 Welcome to RT's live updates on the UEFA Champions League final, a meeting of footballing royalty between Real Madrid and Liverpool at Olimpiyskiy Stadium, Kyiv.
26 May 2018

20:40 GMT

The match-clinching moment

Liverpool keeper Karius lies on the floor having palmed Gareth Bale's shot into his own net as the Welshman reels away to celebrate making it 3-1 in the final.

20:40 GMT

FULL-TIME: REAL MADRID WIN THIRD CHAMPIONS LEAGUE TITLE IN A ROW

20:37 GMT

Bizarre scenes as a fan invades the pitch and approaches Ronaldo as he enters the box, but the man is tackled and taken away.



20:33 GMT

(90 mins) Liverpool have a free-kick on the edge of the Madrid box, Alexander-Arnold swings it in and it pings around the box a bit before Real clear. 3 minutes of added time in Kiev.

20:32 GMT

(87 mins) Liverpool fans valiantly belt out 'You'll Never Walk Alone' - but they'll probably want the calamitous Karius to walk after this disastrous display. Jurgen Klopp looks stunned on the sideline - it looks like it will be a second Champions League final defeat for the German.

20:28 GMT

(84 mins) Just when you thought Liverpool keeper Loris Karuis' night couldn't get any worse... Gareth Bale releases a fierce left-footed strike from range, it's dipping and swerving in the air, but it's right at the Liverpool keeper - who palms it into his own net. Looks like that will be that, barring another miracle...but Liverpool do specialize in those...

20:28 GMT

GOAL! Real Madrid 3-1 Liverpool, Bale again!

20:27 GMT

(82 mins) CLOSE! Wonderful stuff from Real as Ronaldo curls a cross into the box with the outside of his boot. Bale arriving like a comet meets it on the volley but Karius saves well. We then have the first yellow card as Mane goes in late on Ramos.

20:23 GMT

(80 mins) Real Madrid's big game experience proving key here. They are keeping the ball well and are staying nice and compact whenever Liverpool have possession. The Reds looking a bit flat.

20:22 GMT

How did he do that? Players watch on as Gareth Bale acrobatically puts Real Madrid ahead again.