Reds boss Klopp sings away the blues after Champions League heartbreak (VIDEO)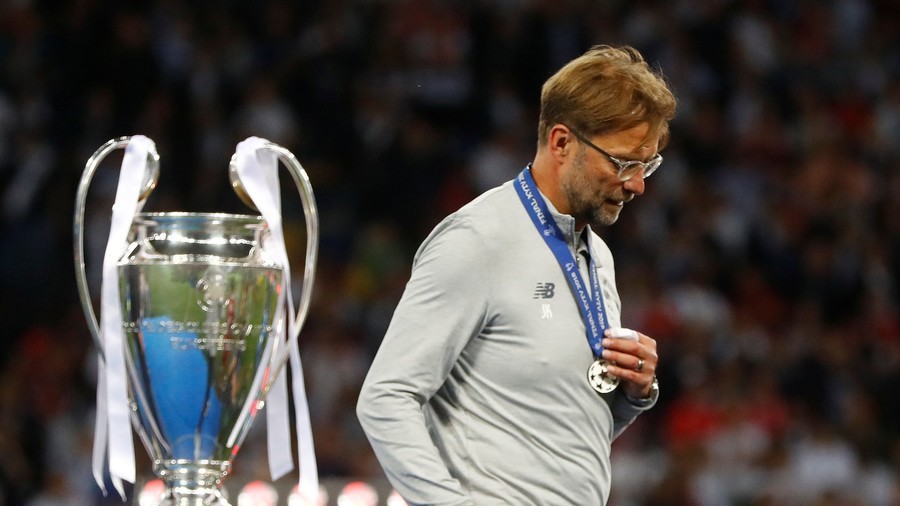 Liverpool manager Jurgen Klopp did not dwell on the Champions League defeat, and instead sang away his cup final blues with travelling fans, saying that "Madrid had all the luck."
Saturday's defeat, which saw Liverpool goalkeeper Loris Karius gift Real Madrid their opener, is Klopp's third cup final loss at the helm of the Premier League club.
READ MORE: Liverpool fans' petition for UEFA to ban Ramos reaches 150,000 signature target
And the Reds boss could have been forgiven for jetting straight out of Kiev in a mood after Liverpool lost to Real Madrid in Europe's top competition. However, the energetic German is not one for ignoring fans, and he appeared in good spirits while hanging out with Liverpool's travelling support at Boryspil International Airport.
Footage of Klopp engaging in a sing-song with boisterous Liverpool fans in the early hours of Sunday morning has been shared thousands of times online.
It shows the Liverpool gaffer wearing a backward cap, singing about Madrid having all the "f****ing luck." Earlier Klopp attempted to deflect the blame away from his goalkeeper, saying his team had been hit by bad luck on that night.
"I really feel for [Karius]. The mistakes were obvious we don't have to talk about it… it's all clear. It was not his night," Klopp said.
If you like this story, share it with a friend!