Larry Nassar conspired with USA Gymnastics to cover up sex abuse probe – report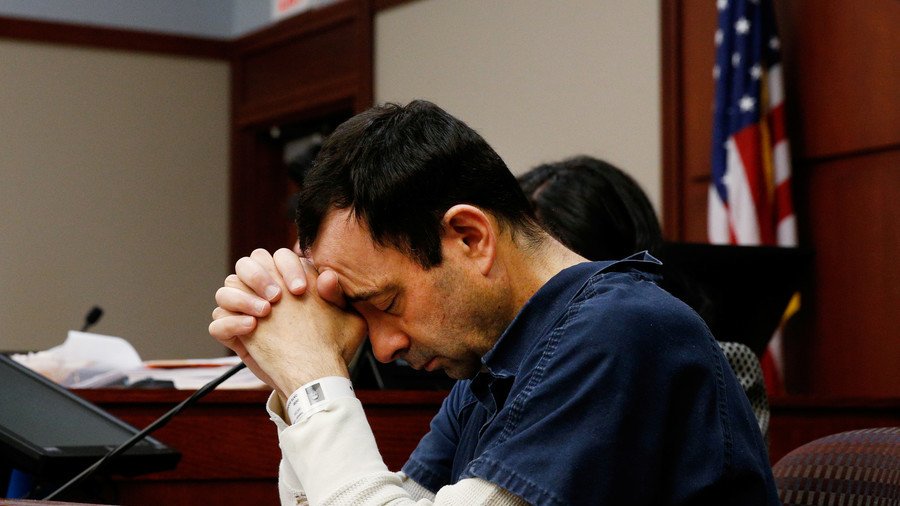 USA Gymnastics officials approved a plan to withhold information as to why Larry Nassar wouldn't be attending gymnastics events in 2015 instead of confirming he was being probed for sexual abuse allegations, it has been reported.
USA Gymnastics and Larry Nassar agreed on "false excuses" to explain his absence from major gymnastics events in 2015, preferring to announce that the now convicted serial child molestor was sick instead of revealing that he was under investigation for a string of sexual abuse allegations, per a report from the Indianapolis Star.
READ MORE: Larry Nassar victims receive record-breaking settlement
Two emails obtained by the newspaper show that Nassar and an attorney acting on behalf of USA Gymnastics concocted a series of excuses ahead of events prior to the 2016 Olympics, first saying that he was sick and then that Nassar was instead focused on his private medical practice.
Per the report, the emails state that attorney Scott D. Himsel informed Nassar that he was under investigation and suggested that Nassar remove himself from the planned events by citing "personal reasons"
"Can we just say that I am sick?" Nassar replied. "That would make more sense to everyone. Would that be OK?"
Nassar was sentenced to 175 years on state charges of sexual assault, with another 40 to 125 years in prison for three counts of sexual assault. He also received a 60 year sentence for federal child pornography charges.
Steve Penny, president of USA Gymnastics has since resigned in the wake of the scandal, so too has entire board of directors. The organization still faces a litany of lawsuits related to the allegations that they sought to cover up the allegations against Nassar.
You can share this story on social media: