'When you are a guy, sometimes you get an erection' - Larry Nassar's interrogations footage released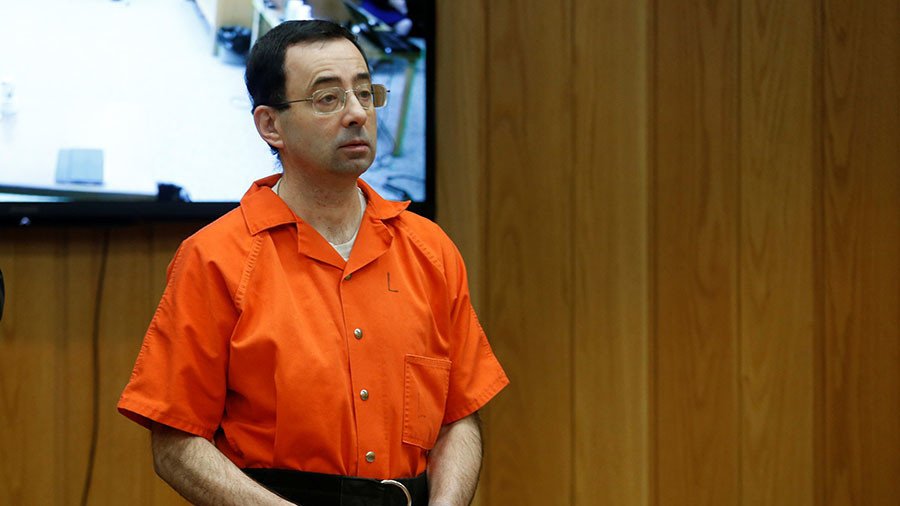 Former US gymnastics team doctor Larry Nassar said that getting aroused during medical exams was a normal biological reaction. The statement was made when he was interrogated by police about his alleged sexual misconduct.
Video footage of police interviews with Nassar made in 2014 and 2016 was obtained by WXYZ's 7 Action News after being released through the Freedom of Information Act on Tuesday. The disgraced doctor detailed medical procedures he performed on young female gymnasts while working as the team physician. Nassar acknowledged he touched the girls in intimate zones, including penetrating them, but insisted it was part of his medical treatment.
READ MORE: Nassar's ex-boss allegedly paid students for nude medical exams
"I'm doing this on 10-year-olds, 12-year-olds. Ok? With their parents there," he said. "But I'm doing a doggone good job explaining things."
When asked why he touched his patients' breast during exams Nassar insisted that he just "moved the breast down" while massaging the chest wall and the rib cage.
"I don't get it. Why didn't she [a gymnast] say something if she was feeling violated in any way, shape or form… there was no communication," he added attempting to defend himself when first accusations of sexual assault were brought against him.
"That's my self-torture, I guess you could say. Yes she was victimized, but I was victimized to myself," Nassar said.
In 2014, the pedophile doctor avoided criminal proceedings, as the Ingham County prosecutor declined to bring charges against him. However, two years later he was brought into interrogation room again after another gymnast came forward claiming she suffered sexual abuse at the hands of Nassar.
Talking about his sexual arousal during medical exams, which was observed by the gymnast and her mom on numerous occasions, Nassar said it was a normal reaction of a man.
"I shouldn't be getting erection during an exam...When you're a guy, sometimes you get an erection," he said.
In February, Nassar was sentenced to up to 175 years in prison after pleading guilty to molesting young gymnasts under the guise of medical treatment.
More than 260 women filed lawsuits against him, claiming to have been sexually abused by the former therapist.
High-profile US gymnasts, including Olympic champions Raisman, Simone Biles, Mckayla Maroney, Gabby Douglas and Jordyn Wieber, were among those to reveal that they were abused by Nassar during their time on the national team.
You can share this story on social media: