Donald Trump heaps praise on NASCAR for continuing to stand for national anthem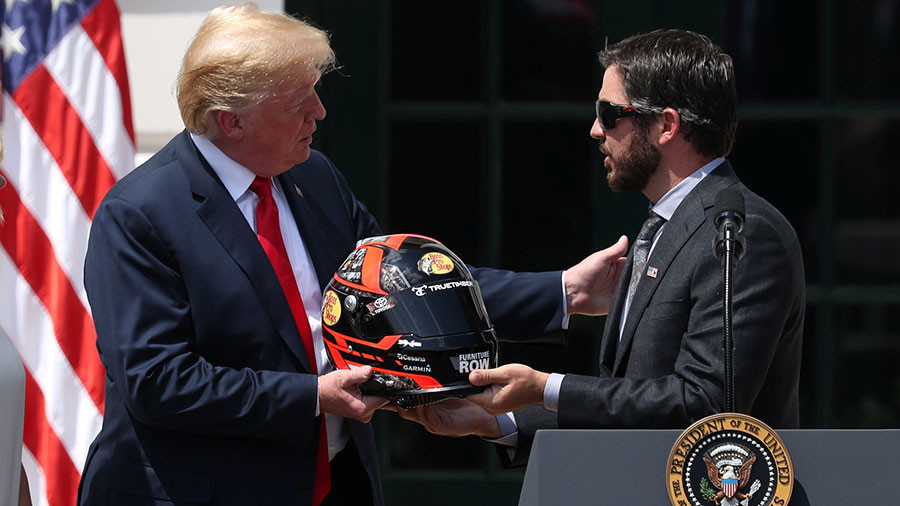 In the wake of waves of protests from several prominent sports stars in the US, President Donald Trump has reserved praise for that most red-blooded of American sports, NASCAR.
Just days after reports circulated that several members of NFL champions the Philadelphia Eagles were unsure if they would accept an invitation to the White House, President Donald Trump welcomed 2017 NASCAR Cup Series winner Martin Truex Jr. to Washington DC – and he couldn't resist taking a swing at the NFL while doing so.
Trump lauded NASCAR for its drivers and supporters continuing to stand for the national anthem in the wake of a months-long series of protests and demonstrations in the National Football League, which has drawn the ire of Trump and his supporters.
"At every NASCAR race, you will see thousands of patriotic Americans, from the grandstands to the pit stalls, proudly waving our flag and roaring with joy at the words, 'Start your engines,'"Trump said from the White House's South Lawn.
"And I will tell you – one thing I know about NASCAR, they do indeed, Brian, stand for the playing of the national anthem, right?" Trump added, flanked by NASCAR CEO Brian France.
"Somebody said, 'Maybe you shouldn't say that, that'll be controversial.' I said, 'That's OK, NASCAR's not going to mind it at all.' Right, fellows? They don't mind it at all."
A wave of demonstrations against perceived police brutality toward minorities began in August 2016 after then San Francisco 49ers quarterback Colin Kaepernick sat (and would later kneel) throughout the national anthem. The demonstrations grew larger and more robust, taking in numerous players from other teams and even different sports.
READ MORE: Several NFL champions 'feel passionate' about turning down Trump's White House invite
Last September, President Trump used derogatory language in a Tweet about the incidents, later calling for NFL owners to terminate the contracts of players participating in the demonstrations.
Around the same time, several prominent members of the NASCAR community said that protests during the national anthem would not be tolerated.
"NASCAR grew from the back roads of America's South and the bright shores of Daytona Beach – incredible place – to become one of the world's premier and most beloved sports," Trump added.
"I love it, people love that sport."