'Criminals, not fans': Sporting Lisbon players and staff attacked by supporters at training ground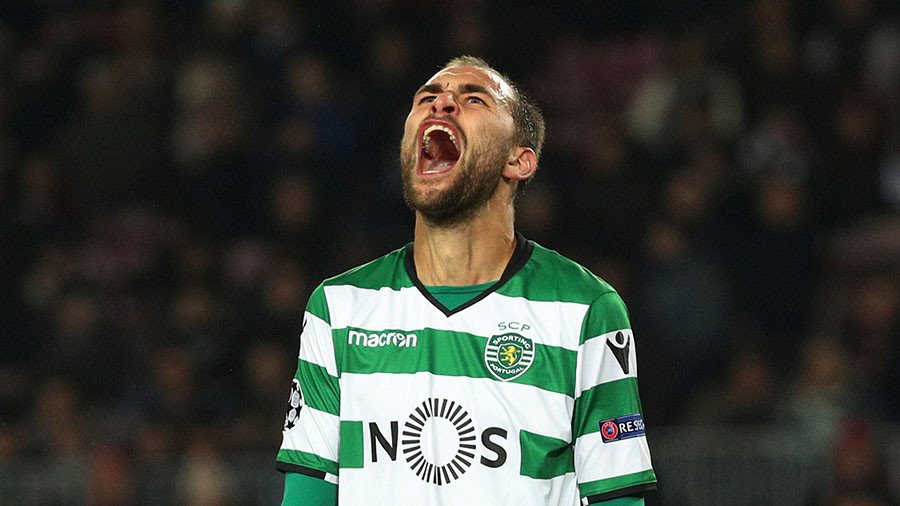 The Portuguese club's striker Bas Dost was among those injured after around 50 fans stormed the club's training ground following failure to qualify for the Champions League.
The Primeira Liga side have "vehemently condemned" a section of their own supporters who attacked players and staff at the club's training facility, injuring forward Dost and others in the process. The assailants were labelled "criminals, not football fans" by the Portuguese league.
"Unbelievable. I have no words for this. We are all shocked, it was a real threat... I am empty." Bas Dost had 6 stitches in a head wound. He was hit with a belt after 50 hooded fans entered their training ground & attacked players. He'll miss Sunday's cup final. pic.twitter.com/JCLzoRJrQl

— FourFourTweet (@FourFourTweet) May 16, 2018
Supporters, many of whom were armed with sticks and belts, congregated at Academia Sporting - apparently angry at the side's failure to qualify for the Champions League on the final day of the season.
Portuguese media published photographs of Dutch international striker Dost, who scored 34 goals this season, with lacerations on his head. Assistant coaches Mario Monteiro and Raul Jose also suffered injuries after being attacked in the changing room, according to reports. Dost is understood to be out of Sunday's cup final against Aves.
CMTV: Bas Dost was beaten and thrown to the floor, got his head and legs injuried. He's out of Sunday's cup final.Nice way to treat a striker who scored 34 goals for your club this season.

— Lucas Sposito (@LucasSposito_) May 15, 2018
"Sporting Club of Portugal vehemently repudiate the incidents registered today at the Sporting Academy," the club announced in a statement.
"We cannot in any form be associated with acts of vandalism and aggression towards players, coaches and staff of the professional football department, nor with attitudes which constitute the practice of a crime. This is not and cannot be Sporting.
"We will take every measure we can to find those responsible for what happened and we will not shy away from demanding punishments for those who acted in this absolutely lamentable manner."
READ MORE: Ex-Aston Villa defender Jlloyd Samuel dies in car crash
The incident comes at the end of a controversial season for the Portuguese team, who finished third in the Primera Liga. Club president Bruno de Carvalho threatened several first team players with suspension following, what he deemed, a poor performance in a Champions League tie with Atletico Madrid, prompting angry social media posts from players.
You can share this story on social media: