Bizarre red card sees Ireland junior keeper dismissed in vital shootout (PHOTOS)
Published time: 15 May, 2018 11:28
Edited time: 15 May, 2018 11:30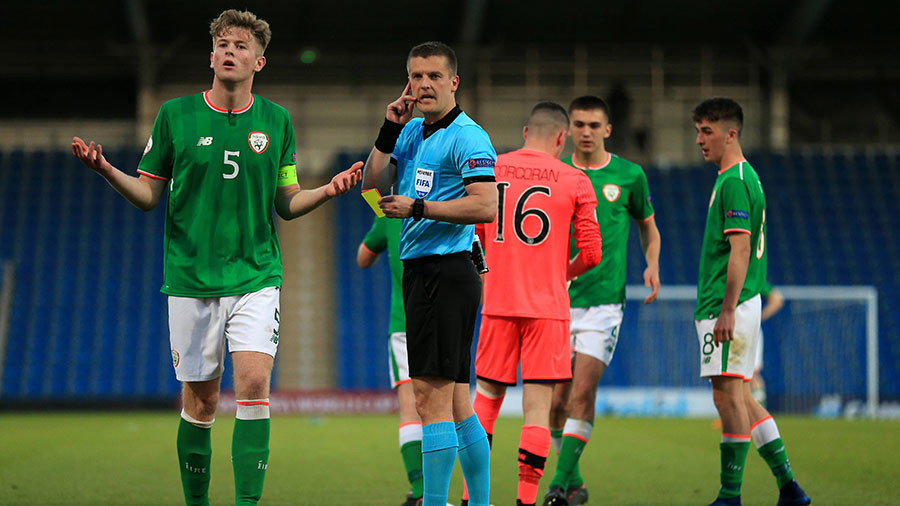 This is the bizarre moment Ireland goalkeeper Jimmy Corcoran received a second yellow card despite saving a vital penalty in the U17 European Championships quarterfinal against the Netherlands.
With the tie locked at 4-4 in the penalty shootout, Daishawn Redan stepped up to take the penalty to send the Dutch into the last four. Corcoran saved Redan's spot kick and looked to have kept the Irish hopes alive.
His celebrations were cruelly cut short when Czech referee Zbyněk Proske ordered the penalty to be retaken as he adjudged Corcoran to have moved off his line before Proske blew his whistle.
It was a brilliant save from jimmy Corcoran sole timing love to know how the officials called this. Never seen a yellow card given for it before actually never seen a retake before for keeper coming off the line. pic.twitter.com/MJlyqHEHxk

— Christy Smyth (@Bootsy1990) May 15, 2018
Inexplicably, Proske then shocked all watching at Proact Stadium, Chesterfield, UK, by astoundingly showing Corcoran a second yellow card, resulting in a red and his dismissal, reducing the young shot stopper to tears.
The replay shows minimal movement from Corcoran, who appears to take several quick steps sideways to his right around the time Redan strikes the ball and seemingly moves only after the ball is kicked.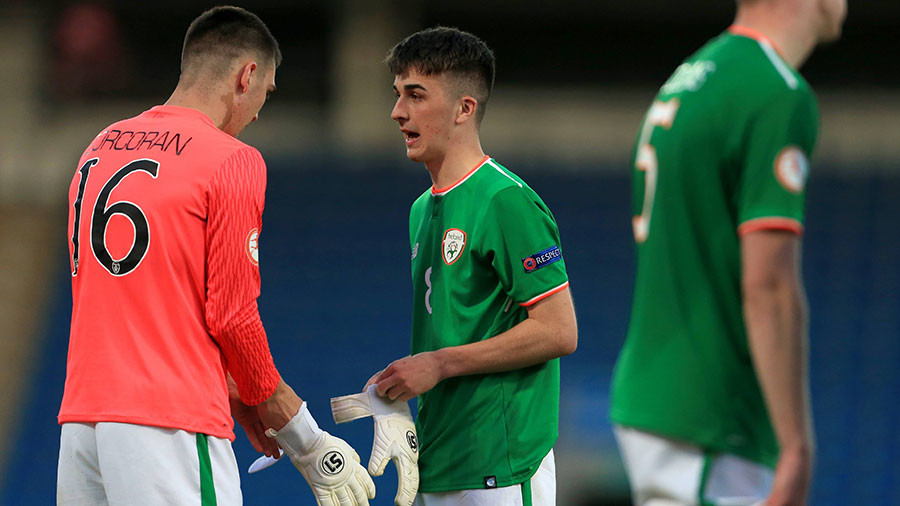 A distraught Corcoran was eventually helped from the floor and off the pitch by teammates. Per UEFA rules, a team is not allowed to substitute their goalkeeper, preventing Ireland from introducing Sean Bohan, and instead defender Oisín McEntee went in goal.
When play resumed, captain Redan made no mistake from the retake and fired the Netherlands into the semifinals. Ireland senior manager Martin O'Neill, who was there to watch the match with assistant Roy Keane, was seen running on the pitch to remonstrate with the referee.
Republic of Ireland Under-17s goalkeeper Jimmy Corcoran was shown a second yellow card during the penalty shootout of their controversial Euro 2017 quarter-final defeat to Holland #U17EUROpic.twitter.com/0D77XGPqo7

— PA Dugout (@PAdugout) May 14, 2018
Ireland U17 manager Colin O'Brien said that the referee had warned the Dutch goalkeeper twice previously for moving before the whistle had been blown during the shootout. The teams were forced to decide the match by a penalty shootout after the match had ended 1-1.
Corcoran's father told 98FM's Dublin Talks: "We were outraged with the decision but more so we were outraged with the way he treated a very young player.
READ MORE: 'Beitar Trump Jerusalem': Top Israeli football club renames itself after US president
"It was obvious the consequences of what was after happening, this was a 16-year-old, obviously he was my son but for any child to have to go through that I thought was very harsh.
"He slept a little bit but he's not feeling a whole lot better but time will fix that. This is football and that's why we play sport; for the ups and downs. It still is the moment of his career so far but just for the wrong reasons unfortunately."