FA condemns anti-transgender flyers spread among fans at women's football Cup final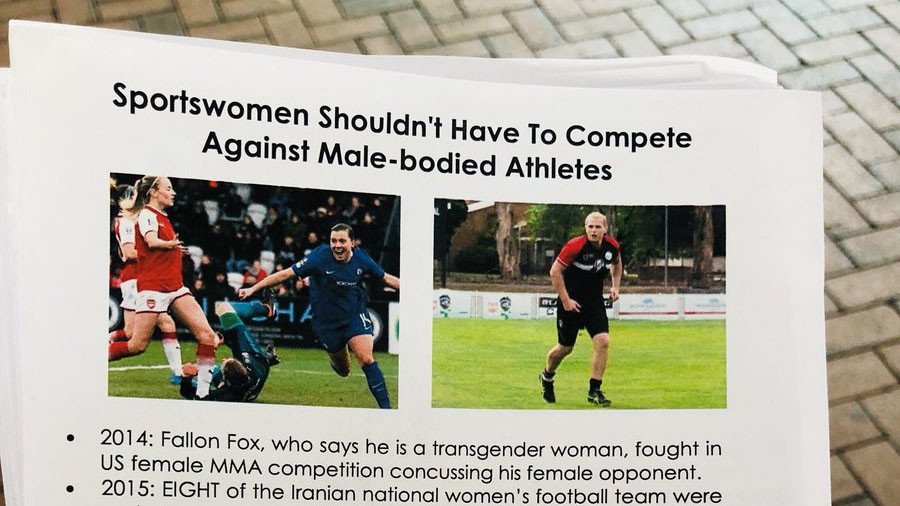 The English Football Association (FA) has condemned anti-transgender flyers that were given to fans outside London's Wembley Stadium during the women's football Cup finals on Saturday.
The leaflets were handed out at the game between Arsenal and Chelsea by representatives of the Mayday4Women feminist group, who oppose transgender-inclusive policies in sports.
READ MORE: 'Testosterone rule not implemented in sprint because it's dominated by Americans' – Spanish runner
Hundreds of pamphlets, titled 'Sportswomen Shouldn't Have to Compete against Male-bodied Athletes,' calling to "keep men out of our [women's] sports," were given to football fans.
The leaflet, which had images of Australian transgender footballer Hannah Mouncey at the top of the page, also contained information about how transgenders have an unfair advantage over female competitors.
"Men recognized as Transwomen are allowed to compete with 3x higher testosterone levels than the high range women," the flyer read. "A man can never be a woman," it added.
Today we went to the Women's FA Cup Final and gave out 400+ flyers before the match about protecting women's sport from men. pic.twitter.com/rbXpsDFax6

— MAYDAY 4 WOMEN (@mayday4women) May 5, 2018
The FA condemned the distribution of the anti-transgender flyers, insisting that gender identity should not prohibit players from playing football.
"The FA condemns the messaging within these leaflets as it is at odds with our ethos around trans inclusion," the English football governing body told Sky Sports.
"We have a policy in place which allows people who self-identify, and who meet our criteria, to play in affiliated football - this was a first for a football governing body and something we are proud of."
READ MORE: Transgender weightlifter out of Commonwealth Games after horror injury in record attempt
The FA adopted a transgender-inclusion policy in 2014, under which each application filed by a transgender athlete is reviewed individually before approving him or her to compete.
The FA is the first national football organization to introduce a policy on accepting trans athletes, despite the policy, there are no openly transgender players in either the UK men's or women's football leagues.
You can share this story on social media: