Boy without legs asks to meet Maradona, gets to play football with idol (VIDEO)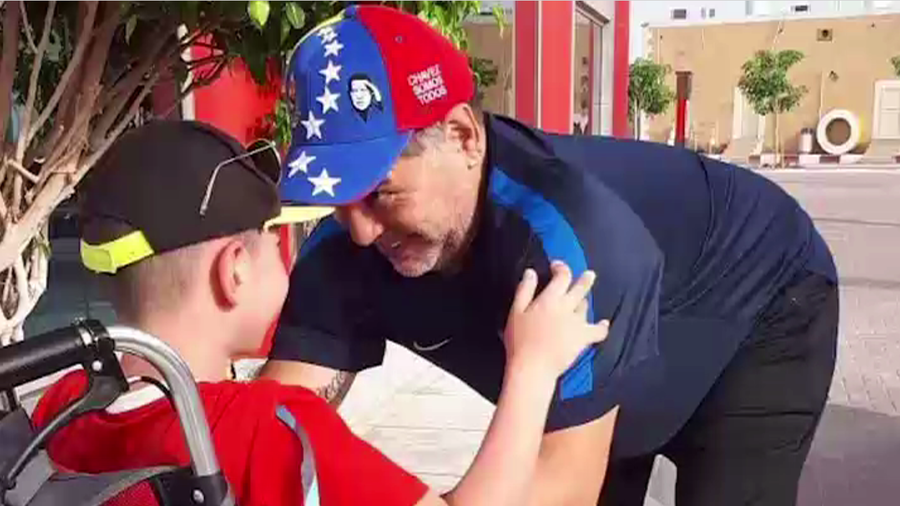 Football legend Diego Maradona had a kickabout with 10-year-old Ali Turganbekov, a Kazakh boy who was born without legs, after the youngster sent a hopeful message to his favorite player.
"I played football with my friend Ali, who came to meet me in Fujairah, UAE. Thank you for your example of resilience, Ali," the Argentinian, who currently coaches the local football team, wrote in an Instagram post.
The two didn't just shake hands and exchange gifts, they also had a one-on-one session, in which the boy headed balls into a goal, and got to play keeper as Maradona lobbed shots at him.
Ali was born with amelia, a relatively rare birth defect. He has become something of a celebrity in his homeland, occasionally appearing in the media, and has previously traveled abroad to meet former Real Madrid player Michel Salgado, who passed his video along to Maradona.
In a less glamorous side of his condition, Ali's middle-class family has had to persistently crowdfund money for new Western-made prostheses that would allow the growing child to live more independently.
Turganbekov says his dream is to become a Paralympic swimmer, and beat Michael Phelps' medal record.