First paralyzed man to finish London marathon denied medal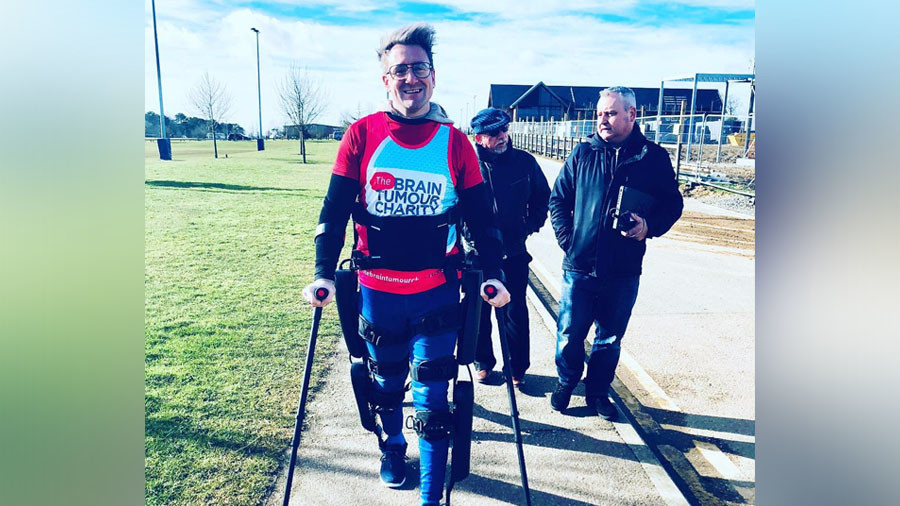 The first paralyzed man to complete the London marathon, Simon Kindleysides, has been denied a medal by the event organizers as he crossed the finish line more than a day after the start.
The 34-year-old Kindleysides began the race at 10am on Sunday along with thousands of other runners and completed the 26.2-mile course at 10:46pm on Monday – more than 36 hours after the start – becoming the last person to finish.
READ MORE: Egypt football fan embarks on cycle journey to 2018 World Cup
Kindleysides was diagnosed with glioma, an inoperable brain tumor, in 2013, which left him paralyzed from the waist down. He competed in the London marathon using a battery-powered exoskeleton suit which helped him to move.
"I want to be a role model to my children so they can say their daddy's been the first paralyzed man to walk the London marathon ever," Kindleysides told the BBC before the race.
The event organizers, however, refused to give an official medal to Kindleysides, as he failed to cross the line on Sunday. Instead, they presented him with the Spirit of London award, which the London marathon gives to competitors who "encapsulated the unique spirit" of the race.
Well-wishers impressed by the feat gave Kindleysides medals of their own in recognition of his unbending will and power to cover the distance despite all the difficulties.
Kindleysides says his main goal was to bring attention to the problem of brain tumors and raise money for the Brain Tumour Charity, which helps people to fight the dangerous disease.
"I am in a lot of pain. It has taken it out of me and I don't know how it is going to affect me physically afterwards," Kindleysides said after the race.
"I hadn't walked 26 miles in my life when I was able bodied, so that is a massive achievement in itself. The support has just been overwhelming and like a dream come true. It is incredible because I didn't expect it to be as big as it was.
"I just wanted to show that anything is possible if you put your mind to it. You can stay in bed and feel sorry for yourself or get out and enjoy your life, because you are only here once," he added.