New Zealand rugby teams reveal rainbow jerseys as part of 'diversity' campaign (VIDEO)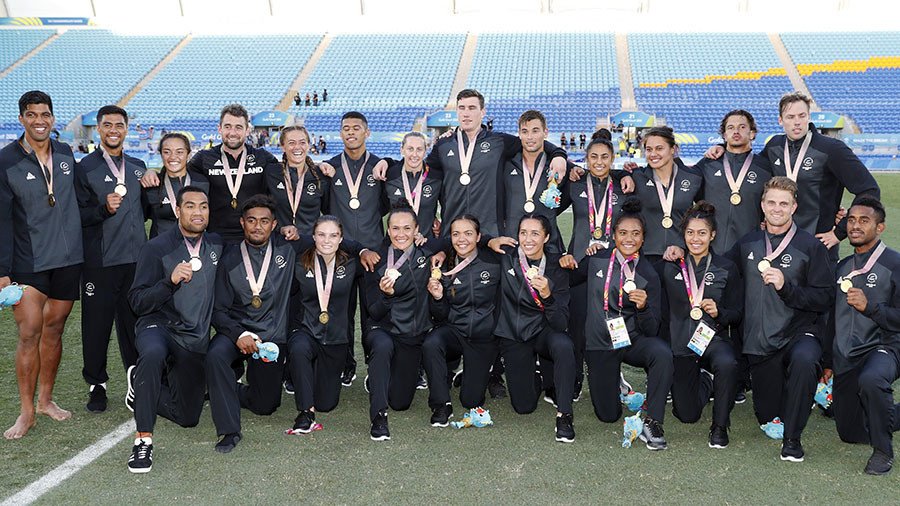 New Zealand's famous All Blacks rugby team released a video featuring stars from the men's team alongside their female counterparts, showing the players wearing specially designed 'rainbow' jerseys.
The two-minute video was filmed last year but was published on Monday, and shows members of New Zealand's men's and women's squads, known as the All Blacks and Black Ferns respectively, at a stadium in Japan with fans waving rainbow flags in the stands.
"The next battle is different. The next enemy is truly formidable and deeply devious," says the voice on the video.
"It is discrimination – an enemy that cannot be fought alone and must be defeated together. It will take more than 15 – it will take thousands, millions."
At the end of the clip, rugby players also reveal the rainbow colors on their black kits, after they stretched the fabric, which then turns from black into a number of different colors.
The video was released several weeks after Australian rugby star Israel Folau sparked heated debates on social media after saying that gay people would go to hell if they did not repent.
READ MORE: Australian rugby star says gay people will go to hell
Folau's comments provoked public outcry, with many people accusing the player of intolerance and homophobia.
The All Blacks' TJ Perenara condemned Folau for his stance on the gay community, adding that "there is no justification for such harmful comments."
Let it go on record that I am 100% against the comments that were made by Israel. It was not ok to say that. It's not an attitude I want to see in the game I love. There is no justification for such harmful comments.

— Tj Perenara (@Tj_Perenara) April 18, 2018
Perenara and some of his Waikato Chiefs teammates wore rainbow laces in Saturday's Super Rugby game against the Queensland Reds in support of people in same-sex relationships.
Next year's men's rugby world cup will be held in Japan for the first time.
You can share this story on social media: