Moment of silence held at Toronto Maple Leafs game in tribute to victims of van attack
Published time: 24 Apr, 2018 12:35
Edited time: 25 Apr, 2018 11:59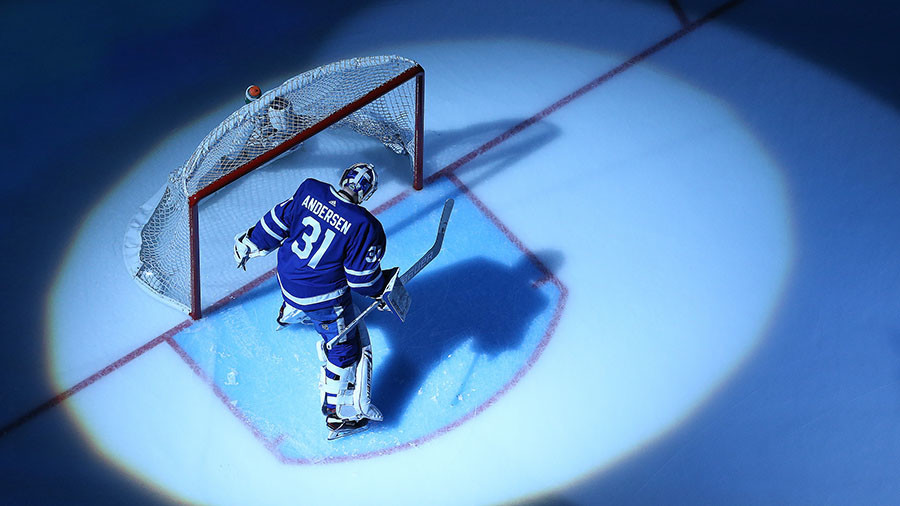 The Toronto Maple Leafs and Boston Bruins held a moment of silence before their first-round playoff game to honor the victims of the deadly van attack in Toronto that killed 10 and left 15 people injured on Monday.
The starting lineups of the teams stood in silence on the blue lines when photos of the city were displayed on the scoreboard of the darkened Air Canada Centre before their game on Tuesday.
"Earlier today our city was impacted by a horrific incident that claimed the lives of nine people (now 10) and injured many others," the public announcer said.
"Our thoughts and prayers are with the victims, their families, the first responders and to all of those affected. All of Toronto is with you."
The American and Canadian anthems were then sung by Martina Ortiz-Luis, who later allowed the crowd in the stands to take over 'O Canada' lyrics, which turned out to be a very powerful and emotional rendition.
The Boston Bruins also expressed their condolences on Twitter before the game. "Our thoughts are with all of those affected by today's tragedy. We stand with the City of Toronto during this difficult time," the team tweeted.
Our thoughts are with all of those affected by today's tragedy. We stand with the City of Toronto during this difficult time.

— Boston Bruins (@NHLBruins) April 23, 2018
"We're fortunate to live in such a fantastic city with great first responders, and the work they've done," the Leafs coach Mike Babcock said after the game.
"But it's so important that we rally around these people, help out and do whatever we can. We have a fantastic city. We can't let this get in the way of what we've got going. Tragic to say the least."
"We're sending all our love," said Leafs forward Mitch Marner, who netted the winner on Monday.
"It's happening too often now, these things. It sucks. This world's made for loving each other and making each other better. This is a big win for us after an emotional day," he added.
READ MORE: 10 dead, 15 injured after van plows into pedestrians in Toronto (PHOTOS, VIDEOS)
On Monday afternoon, the van mounted a busy street in Toronto's north end, striking multiple pedestrians on its way. Ten people were killed, and 16 more were injured as a the result of the attack. Later the same day, police identified the perpetrator of the van-ramming in Toronto on Monday as Alek Minassian, 25, from Richmond, Ontario.
The Leafs defeated the Bruins 3-1 to tie the series at 3-3 and force Game 7 that will be played on Wednesday in Boston. The winner of the Leafs-Bruins tie will face off against the Tampa Bay Lightning in the next round of Stanley Cup action.