Barcelona fans boo Spain's national anthem in presence of king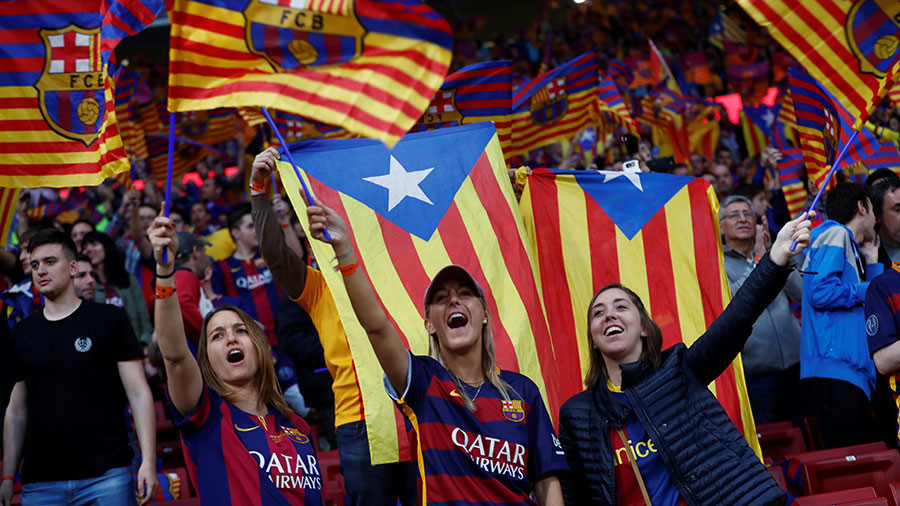 Fans of Catalan football club Barcelona booed the national anthem at the Spanish Cup final, which was attended by King Felipe VI.
Whistles and jeers were heard from the stands during the playing of the national anthem before the final clash between football giants Barcelona and Seville on Saturday.
The game, which was held at the Wanda Metropolitano stadium in Madrid, saw Barcelona defeat their rivals 5-0 to win the Spanish Cup for the 30th time in the club's history.
The fans were most likely expressing their resentment over the constitutional court's decision to cancel the results of last year's referendum, in which 90 percent of Catalans voted to separate from Spain.
Barça fans attending Saturday's match were reportedly asked by police to remove the yellow shirts they wore to show support for the nine Catalan independence leaders held in prison.
READ MORE: South Africa football thugs brutally beat female guard in riot after cup defeat
"Placards or T-shirts whose significance or content could have increased the risk of public order problems or violence in and around the stadium were seized," a police officer told AFP on Sunday.
Last October, Catalonia's bid for independence was declared illegal by the constitutional court, triggering a massive wave of protests that engulfed the region.
You can share this story on social media: