South Africa football thugs brutally beat guard in riot after cup defeat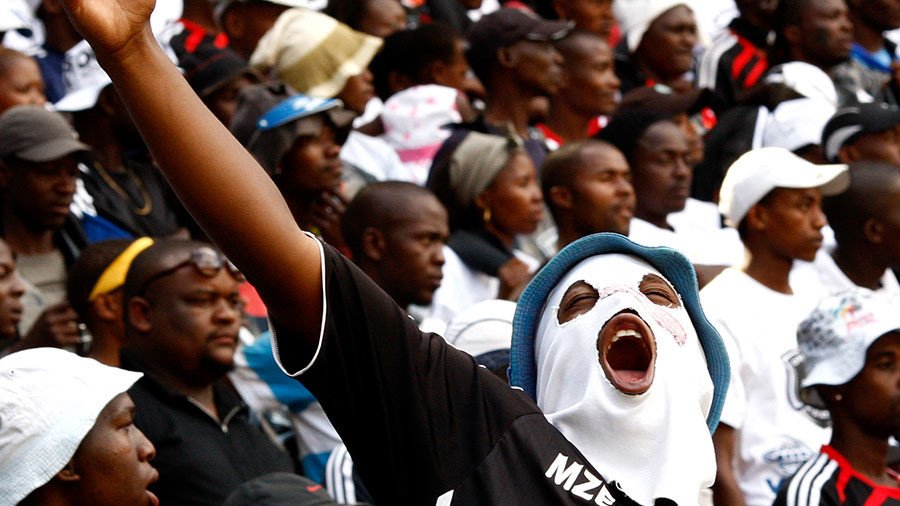 Fans of South African football club the Kaizer Chiefs rioted after their team lost in the semi-final of the national cup, charging onto the pitch and causing serious injury to a security guard.
The Kaizer Chiefs, One of the most supported clubs in South Africa, were knocked out of the Nedbank Cup on Saturday, going down to a 2-0 defeat to the Free State Stars.
When the final whistle blew at the end of the game, the teams' fans left their seats and invaded the pitch at the Moses Mabhida Stadium, smashing equipment, plastic chairs, cameras and attacking security staff.
Footage of the violent riot went viral, including clips showing a group of fans assaulting a security guard, who was seriously injured in the incident.
The woman is seen lying on the ground, being brutally beaten with plastic chairs and later kicked twice in the head by a man. The outrageous scene sparked a public outcry on social media, with many users urging strong punishments for the attacker.
South African Police Services spokeswoman Nqobile Gwala said on Sunday that two people were arrested following the riot. They are expected to face charges of public violence and malicious damage to property.
The Kaizer Chiefs, who have the highest average home attendance in South Africa, took responsibility for the horrifying scenes, with the head coach Steve Komphela immediately resigning after the game.
"We have to cut this culture of ill-discipline and delinquency. I have to be responsible and protect the players and administration, and set an example that this must stop," he said.
"If it has to stop with me, then it must be so ... I am effectively saying to you that I consider it my responsibility to protect everybody at stake."
You can share this story on social media: