Slovenian hooligans violently clash with police after attempting to attack Russian fans (VIDEO)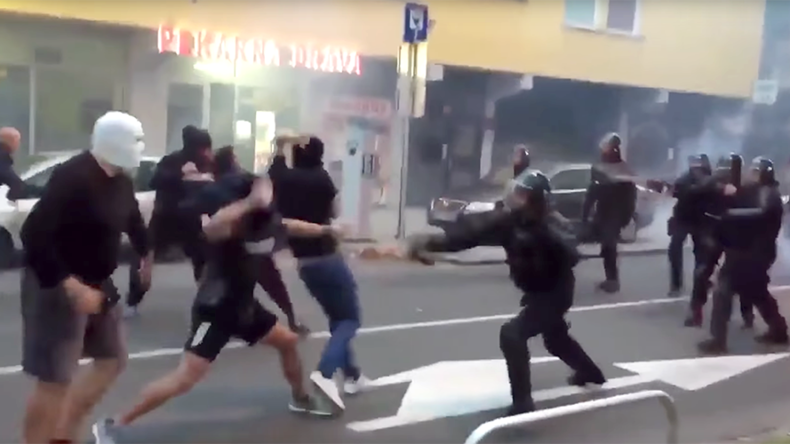 Fans of Slovenian team FK Maribor were caught up in violent clashes with police after trying to attack visiting supporters of Russian champions Spartak Moscow on Wednesday.
In video footage which has appeared online, balaclava-clad thugs can be seen aiming kicks and punches at armored riot police officers in the street before their team's UEFA Champions League match in Slovenia's second-largest city.
In broad daylight, the muscle-bound hooligans attack the officers, who appear to be outnumbered, amid the crashes and bangs of flares and fireworks and other missiles thrown in their direction.
The police defend themselves from the attacks with their batons and by spraying what appears to be tear gas.
The group can then be seen regrouping and then advancing again while chanting their club's name, all while shocked passersby look on.
At one point in the footage, a masked fan is seen kicking a grounded police officer who has fallen over trying to fight off an attacker.
The violence occurred immediately before the kickoff at The Stadion Ljudski vrt, 130 km from the country's capital Ljubljana.
Twitter users reacted in shock to the ugly scenes.
When the Champions League Group E opener did get under way, an Aleksandr Samedov first-half strike gave Spartak the lead before a late Damjan Bohar equalizer on 85 minutes for the hosts saw the game end 1-1.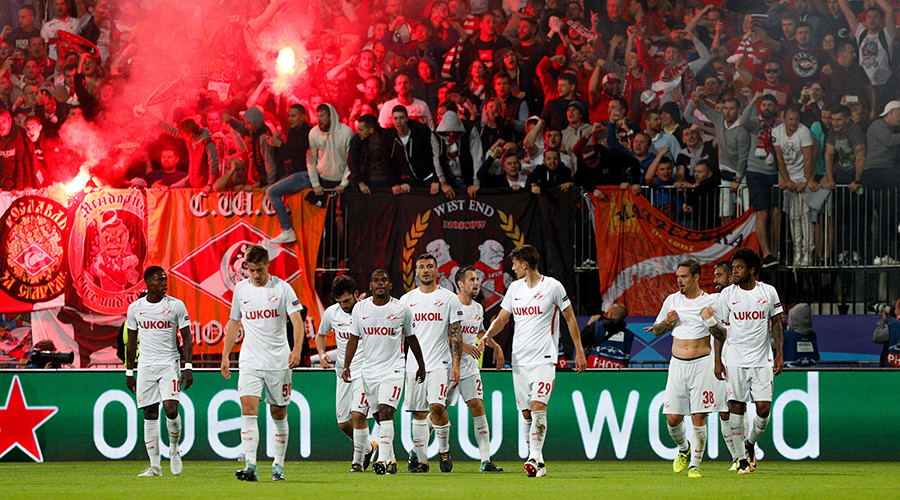 In 2013, Maribor were fined €17,000 for what UEFA described as "insufficient match organization and throwing of missiles and/or fireworks by their supporters" during a Europa League game versus Lazio.
Spartak could also face UEFA sanctions after a firework appeared to be fired from the away end and land on the pitch, narrowly missing German referee Deniz Aytekin during the game.
READ MORE: 'You're sh*t': Ukrainian ultras strip own team of jerseys after crushing defeat (VIDEO)
The Moscow club play host to English team Liverpool in the Russian capital in their next Champions League game. That game will take play one day prior to their rivals CSKA taking on Liverpool's rivals Manchester United, also in Moscow.