'You're sh*t': Ukrainian ultras strip own team of jerseys after crushing defeat (VIDEO)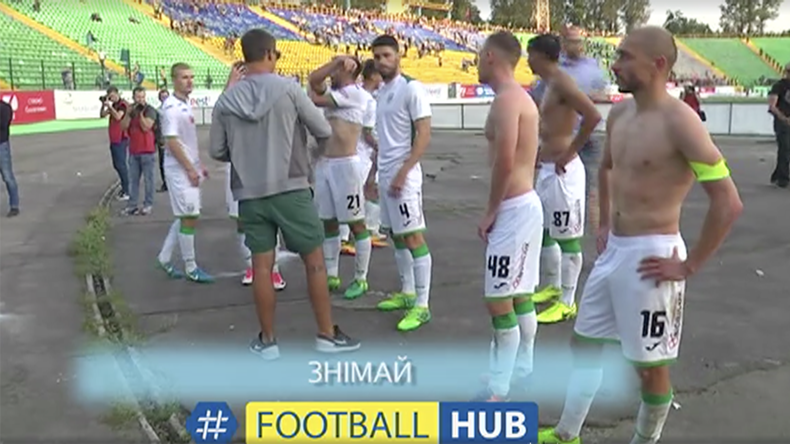 A humiliating defeat of the Ukrainian Karpaty Lviv soccer team has forced its fans to disown them in a very prominent way – by stripping them of their team jerseys while chanting "We are Karpaty, you are sh*t."
The incident took place after a match within the Ukrainian Premier League, a prestigious annual football championship. Karpaty Lviv team, based in the Ukrainian city of Lvov, faced Veres Rivne on Sunday.
The result was an ignominious defeat for Karpaty, with a 1-6 scoresheet. The Karpaty ultras apparently couldn't stand the humiliation, which media described as the worst in their team's history.
A video on social media shows a shouting match between the players and their angry fans by the side of the pitch.
"Take them [the team jerseys] off! It's our color!" one of the toughs commands the Karpaty players, who immediately obey. The man is then seen collecting the shirts.
In the meantime, a sector of the fans in the stands can be heard chanting: "We are Karpaty, you are sh*t."
Karpaty ultras have a long history of extremism and violent incidents. In 2007, some held a nationalist flag during a football match, according to reports in Ukrainian media.
They have repeatedly engaged in violent brawls with the fans of rival teams, seen in multiple YouTube videos.
WARNING: DISTURBING FOOTAGE
In 2014, the club unveiled their new uniforms near a monument to Nazi collaborator Stepan Bandera. The jerseys were red and black, the colors of Bandera's Organization of Ukrainian Nationalists (OUN).
The club, whose official website features photos of children playing while wearing the uniforms, officially draws no connection between itself and Bandera.
Bandera led the OUN's militant arm during the beginning of World War II. He was later arrested by the Germans and spent years in a concentration camp. The OUN cooperated with the Nazis, urging the Ukrainian people to aid the invading forces in destroying the Soviet Union.
Green and white remain Karpaty's official colors.