Bikini skiing: Thousands strip off on Sochi slopes to enter Guinness Book of Records (PHOTOS)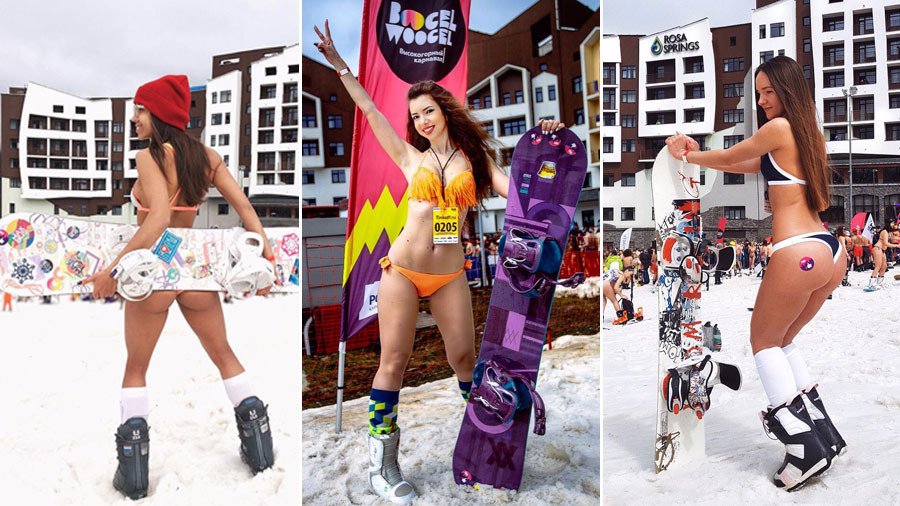 Thousands of skiers and snowboarders have swapped their winter gear for shorts and bikinis in Sochi, Russia, in an attempt to break yet another record for the largest downhill ride in swimsuits.
The annual BoogelWoogel ski festival staged at the winter resort of Rosa Khutor attracted thousands of spectators and participants, who gathered at the Olympic venue to enjoy the colorful swimsuit show on Sunday, for the third year in row.
Despite subzero temperatures the scantily-clad riders hit the snowy slopes in Sochi to break the previous record registered in 2016, when 1,008 participants wearing swimsuits amassed at the Olympic venue. It took the Guinness Book of Records more than a year to officially recognize the result.
This year the organizers of the festival raised the bar even higher, promising to set a new record for the largest number of riders skiing at the same time in bathing suits. The goal was reportedly accomplished, as almost 2,000 people took part in the massive event on Sunday.
"This year the weather seriously affected the BoogelWoogel plans, as it was raining during the first carnival ride. However, despite this, over 500 brave riders attempted to descend down the slope wearing their carnival costumes,"said Nikita Girin, the organizer of the ski festival in Sochi.
"This morning there was thick fog and we were really worried about the upcoming event. But there were more than 2,000 people [wishing to take part in swimsuit event]. However, only 1,800 managed to comply with timeframe to register for the event. And we realized that neither snow nor rain could stop true BoogelWoogelers."
The number of 'approved' skiers will later be reduced, as only those who fully met the swimsuit dress-code will be counted for the final result.
You can share this story on social media: