'I'm aiming for UFC belt and movie career' – rising MMA fighter Helena Kolesnyk (PHOTOS)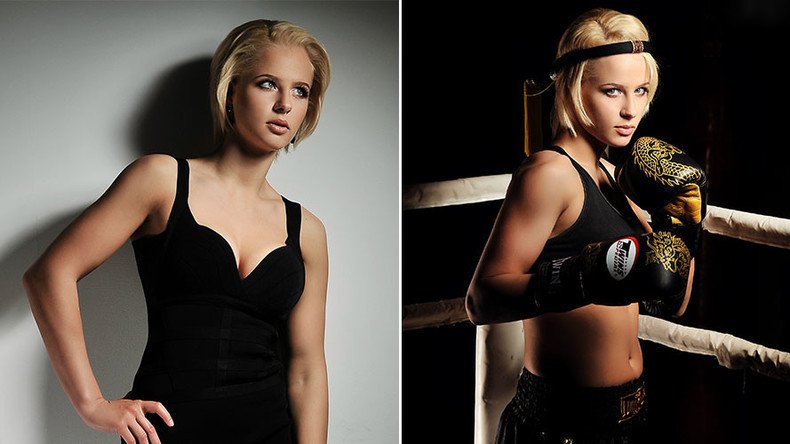 While 27-year-old Helena Kolesnyk aims to compete at the top level of mixed martial arts and wants to fight for the UFC championship, she says she doesn't limit her goals to sports, and wants to pursue a movie career in the future.
Kolesnyk, who joined UFC affiliated Invicta FC this summer, says that despite her unfortunate start in the female MMA promotion, she is looking to come back stronger and sets her goals beyond Invicta's championship belt.
Her career in professional mixed martial arts, where she now stands 5-1, started three years ago, and had rather an unusual beginning.
Unlike the typical motivations for young people to start practicing martial arts, such as self-defense, Kolesnyk says that it was love that motivated her to get involved.
"I fell in love with an athlete when I was in the university. So, I decided to start participating in sports also," she said in one of her interviews.
"I was 17 back then and I never really participated in any martial arts before it. First it was boxing, then Muay Thai, then I switched to MMA."
To learn more about the unusual path of the Moscow-based fighter from Odessa, Ukraine, RT Sport reached out to Kolesnyk, who currently trains with Strela MMA team, whose most famous member, Alexander 'Drago' Volkov, has a 3-0 streak in the UFC's heavyweight division.
RT: Could you tell us about the beginning of your way in the professional sport?
Helena Kolesnyk: Shortly after I started participating in boxing, I went for a national women's tournament in Ukraine. And although I hadn't even boxed as a junior before that, I won my first fight. And then as I was trying myself in different martial arts, it was going quite well for me. Then a few years ago, I tried to fight professionally in MMA and it worked out well for me as well. I think my desire to be the best helps me to win the fights.
RT: What do you see as your goals in mixed martial arts?
HK: First I have to get the championship belt in Invicta. Then transfer to the UFC. And of course fight my way up to the championship belt in the UFC. I am really motivated to be back to the fighting soon. December or January. I lost my last fight and I really want to make up for it. I don't like to leave unfinished business.
RT: Is there anyone in particular who you would want to fight in the UFC in the future?
HK: Yes, of course. Ever since I started my way in MMA, I dreamt to fight with Cris Cyborg. There is no stronger woman in the world in my opinion. I remember when she recently made a social media post, looking for opponents, she mentioned my name as well. So, she definitely knows about me. I believe that one day we will meet.
RT: Do you have a favorite fighter?
HK: I like Conor McGregor a lot. I even have a couple of shirts with him. I really like what he is doing for mixed martial arts. He helped this sport to reach a new level. I think he is a great example for other fighters. I certainly wouldn't mind to become a Conor McGregor of the women's MMA (laughing.) I also like my teammate Alexander Volkov, who is now making his statement in the UFC. It's great to have such a great example in your gym. Plus, he can always give us advice, share his experience.
RT: We know that you also trained with Ronda Rousey some time ago. Do you still stay in touch with her?
HK: Yes, we did train together, when I was in the States. I really liked it. I have been offered to come back to that gym to train again. But I am very happy to train with Strela team, which I represent. And currently don't have plans to go anywhere else. Unless our team has an away camp.
RT: You joined Strela team a year ago and moved from Ukraine to Moscow. How did it all come about?
HK: My manager Ivan Bannikov and coach Taras Kiyashko offered me to visit Strela team last year, for a training camp with them. And when I was already in Moscow they offered me to join the team. Now it's been a year for me here. And I'm more than happy with everything.
RT: What do you like besides martial arts?
HK: I like watching movies. I'd like to star in a big movie one day. I was taking acting classes at one point. Once my friends offered to take a part in a short movie project as an actress, and I gladly helped them. So, I think that a movie career can be another option for me.
RT: Is that your main plan for the future, after you stop competing professionally?
HK: I have other ideas as well. I like the idea of opening a restaurant. Opening a gym, where children, whose parents can't afford to pay for the classes, could participate for free. There are many talents, but not all of them always have an opportunity. I like helping the kids in general. I always try help charity groups, who work with children in need.
by Denis Geyko for RT Sport
You can share this story on social media: