'Huge' Joshua-Povetkin heavyweight fight could take place in Moscow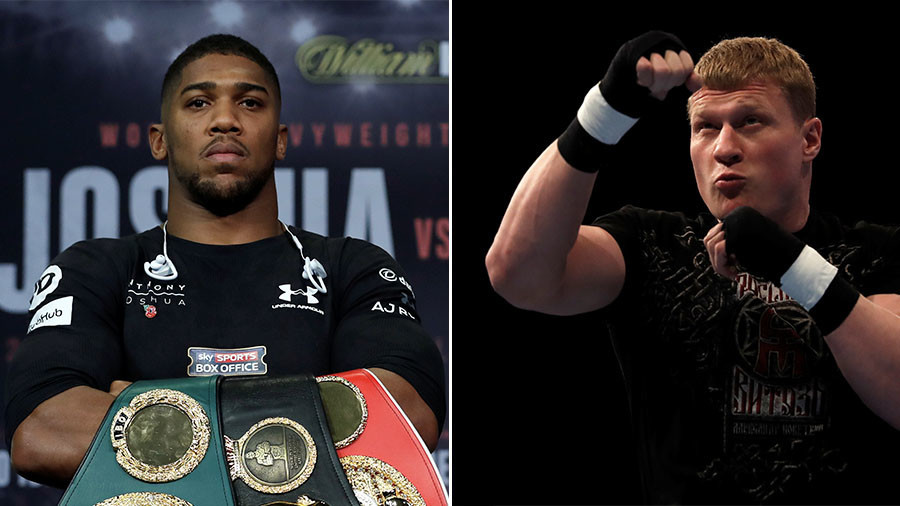 A potential fight between IBF, &WBA world heavyweight champion Anthony Joshua and former titlist Alexander Povetkin could take place in Moscow's Luzhniki Stadium, according to Povetkin manager Vadim Kornilov.
Kornilov, who manages Russian promotional company World of Boxing, told Sky Sports a clash between the two Olympic gold medalists could fill the newly-renovated 81,000-seat Luzhniki.
"It would, depending on the timing, fill up the new Luzhniki Stadium – a football stadium. That's a location with enough magnitude for this type of fight," Kornilov said.
"It would be a huge fight in Russia but, after speaking to Eddie, it would be a huge fight in [the UK] too because there is a big Russian community. Anywhere is a possibility."
Povetkin has already fought at Luzhniki three times. The stadium, which will host the Russia 2018 World Cup opening game and final this summer, has undergone huge renovations and reopened last year.
Joshua's manager, Eddie Hearn of Matchroom boxing, said a fight between his charge Joshua and former WBA king Povetkin "has to happen" at some point in 2018.
However, should Joshua get past WBO champion Joseph Parker in Cardiff on Saturday night, another unification fight against American WBC champ Deontay Wilder for the unified championship would be the next logical step for Joshua.
If a deal cannot be agreed for that fight, a meeting between Joshua and World Boxing Association (WBA) belt mandatory Povetkin "should be" the next fight, according to WBA boss Gilberto Mendoza.
Povetkin faces British boxer David Price on the undercard of Joshua's fight against Parker fight in Wales. The Russian is the heavy favorite to win that fight.
Kornilov added that a unification fight could delay a mandatory, but he, Hearn, and Mendoza agreed that a fight between Povetkin and Joshua for the end of 2018 is "definitely the goal for everybody."
"Any unification can delay a mandatory. Joshua-Wilder would be a priority but we don't know if it will happen so, after Saturday, we are focused on our mandatory fight between Joshua and Povetkin," he said.
Povetkin previously reiterated his wish to meet Joshua. In March, the boxer told RT that his fight versus Christian Hammer in Ekaterinburg in December was a "stepping stone" to face the Briton.
READ MORE: Russia v Brazil: New-look Luzhniki set for latest World Cup test-run