Gun-toting Greek football president handed 3-year ban for armed pitch invasion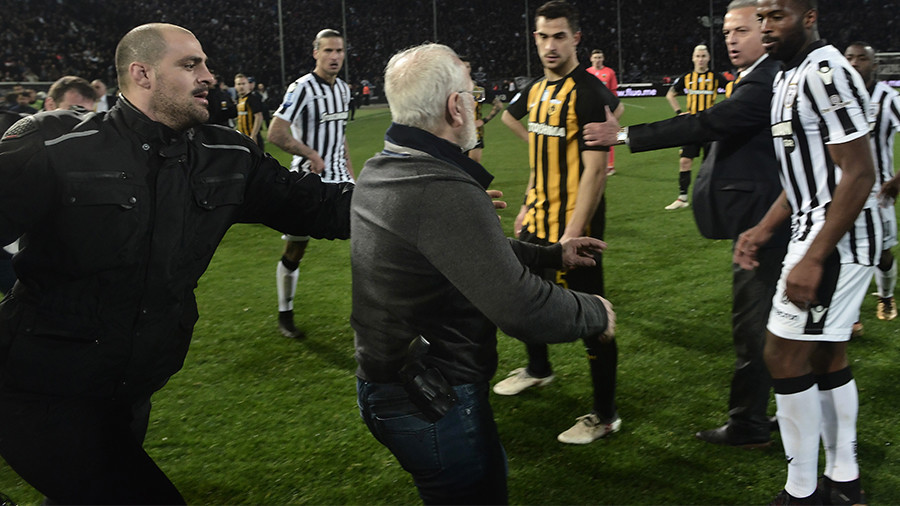 The president of Greek club PAOK, Ivan Savvidis, has been banned from all football stadiums for three years after he stormed the pitch armed with a gun to confront a match official.
PAOK have also been docked three points as part of the punishment, effectively ending their title hopes, the league's disciplinary committee said on Thursday.
Meanwhile in Greece... PAOK president Ivan Savvidis takes to the pitch, armed with a gun, to remonstrate with the ref after his team had a late goal disallowed. pic.twitter.com/Vg8SjtWqY1

— Richard Conway (@richard_conway) March 12, 2018
Greek-Russian businessman Savvidis charged onto the field of play when he was aggrieved that his side had been denied a last minute goal against fellow title challengers AEK Athens on March 11.
The game was tied at 0-0 when PAOK's Fernando Varela netted a goal in the 90th minute to give his team the lead. However, referee Georgios Kominis disallowed the goal, ruling that the player was offside.
Georgian-born billionaire Savvidis marched onto the pitch at Toumba Stadium twice, accompanied by bodyguards. The second time, he took off his coat to reveal he was carrying a pistol in his belt buckle.
AEK officials claimed that Savvidis threatened the referee during the first time he came onto the pitch before being pulled away. AEK coach Manolo Jimenez told Spanish radio that Savvidis intimidated Kominis saying that his "career as a referee has ended."
PAOK now sit in third place after the points deduction, five points behind leaders AEK with six games left to play in the Greek Superleague.
READ MORE: Greek football match abandoned after gun-toting owner storms pitch to confront referee