4 England football fans due in court after over 100 arrested for Amsterdam violence (VIDEO)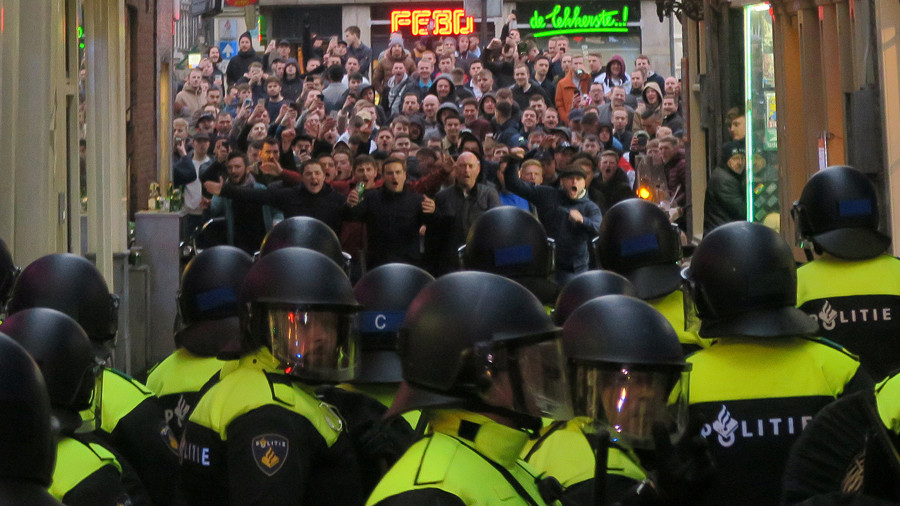 Four England football fans will appear in court following shameful scenes in Amsterdam, including violent clashes with police, that led to 100 arrests in the Dutch capital last week.
The other fans arrested in the violence – condemned by the English Football Association (FA) as "unacceptable" – which flared before England's friendly with the Netherlands on Friday have been released without charge. 90 fans were arrested on Friday, in addition to the 25 arrested on Thursday.
In one incident, a group of rowdy England fans were filmed confidently marching towards Dutch police before rapidly retreating seconds later, as soon as the officers showed a hint of reaction.
Police on horseback and armed with batons waded into the drunken mob, who are seen throwing beer in retaliation. The 115 arrests is reportedly the highest number for England fans for a considerable period of time.
"We always urge supporters to respect our hosts and behave in a responsible manner," the FA said in a statement as reported by the BBC.
"As ever, the FA will work in partnership with the UK football policing unit to help identify those involved and we will sanction any England Supporters' Travel Club member found to be responsible for disorder."
Earlier in the day, England yobs had been filmed pelting passersby riding a boat on a canal with beer and cans as they passed by a bridge ahead of the game. The video drew fierce criticism online, with many fans labelling the behaviour as a "joke" and the perpetrators "bullies."
In a separate incident that carried on the apparent tradition of water sports for England fans, one fan was filmed climbing onto the embankment. He proceeded to strip to the waist and dive head-first into the canal.
The violence came on the same day England manager Gareth Southgate called for the nation "to get our own house in order" amid concerns over the threat of racism in Russia.
"So we keep pointing the finger at Russia, where are we going to be guests in the next couple of months, but we haven't resolved the issue in our own country. Until we do I think we should stop firing off those things elsewhere," Southgate said.
On unsavoury comments made by UK Foreign Secretary Boris Johnson about the Russia 2018 tournament – which he compared with the 1936 Berlin Olympics – Southgate said they were "of little interest."